The Shoestring Explorer: 20 Days Through Cambodia & Vietnam For €1,200
What do you think of when we say Vietnam and Cambodia? A paradise, an education and an unforgettable adventure…
Of course, adventures like this tend to require you to dig a little deeper into your pockets. Or do they? Exploring South East Asia doesn't have to break the bank. Here's how  to see the very best of Cambodia and Vietnam for only €60 a day…
Getting to South East Asia
You'll have to get the big expense out of the way first and there's no way around it. The cheapest way to make the 10,000km journey , doing Cambodia first, is to fly through Bangkok. Seeing as you're flying through the World's Most Visited City in 2016, you may as well spend a day exploring it.
Cost: €550 return flight; €30 overnight accommodation; €50 spending money.
Total Spent So Far: €630
Siem Reap And The Incredible Angkor Wat Temple
There are two ways to tackle the 400km trip from Bangkok to Siem Reap. Either hop on a short haul flight directly to Cambodia's third biggest city (about €45-55 one-way) or travel overland via train or bus. Our advice, get on the road and watch Thai life and scenery zoom past you. Just be prepared for an early start!
Step 1: Train from Bangkok to Aranyaprathet. 6 hours; €1.50 a ticket
Step 2: Tuk-tuk to Poipet border crossing. €2.00
Step 3:Bus to Siem Reap. 2.5 hours, €8
It's important to factor in that the Thai/Cambodian border closes each day at 22:00 so plan your arrival at least 2 hours in advance of the daily cut-off. It's a very hectic border and there will be queues! Leaving Bangkok at 13:00 would get you to  Siem Reap by midnight.
Now that the travel is out of the way, prepare yourself for the architectural marvel that is Angkor Wat. The 12th-century complex is the world's largest religious monument. It's bigger than Vatican City and is a stunning feat of engineering, complete with a surrounding moat.
If you can make it to Angkor Wat at sunrise or sunset then do so! Your reward? Bearing witness to one of the most beautiful scenes you'll see anywhere in the world.
Cost: Transport €11.50; Cambodia visa (get this in advance) €30; Food €6; three-night accommodation in Siem Reap €20; Angkor Wat Day Pass €15
Total Spent So Far: €700
Onwards to Phnom Penh And Cambodia's Shocking Recent Past
Two million people are estimated to have perished as a result of Pol Pot's brutal and harrowing genocide barely forty years ago. The deep wounds Cambodia suffered as a nation are yet to heal and you cannot visit the capital of Phnom Penh without being in tune with what happened there. The Killing Fields and Tuol Sleng Prison are difficult places to visit but it will give you a fresh appreciation for how lucky you are.
Taking the atrocities of the past out of the equation, Phnom Penh is a cheap, vibrant city. While you obviously need to keep your wits about you, (like any other city on the planet!) the people are noticeably warm and friendly towards tourists. The glistening towers of the Royal Palace are a brilliant photo opportunity while the food to be enjoyed in the city rivals anywhere in South-east Asia, and that's saying something!
Cost: Hostel two nights €18; Tuol Sleng Prison & Killing Fields Audio Tours €10; Street Food €15
Total Spent: €743
Life's A Beach – Tanning & Snorkelling in Sihanoukville
By the time you check off Bangkok, Siem Reap and Phnom Penh you'll be wall fallen, both physically and mentally. That's why a day or two in Cambodia's most popular sun-soaked destination is a very good idea!
Only open since April this year, a new train service operates between the Phnom Penh and Sihanoukville. You'll never pay less for a 220km journey, at just $6 (Cambodia's primary currency is actually the US dollar). There's a $12 bus service operated by Mekong Express is also a pretty good option.
Once you get to the white sand beaches of Sihanoukville, you need to do three things – Recharge by the beach, snorkel around Koh Rong and have a night out!
Day trips snorkeling via The Dive Shop costs about $15, covering all of your equipment, boat trips and food. The local fauna include seahorses, starfish, dolphins and if you're lucky enough you might even meet a whale shark!
Sihanoukville has a great nightlife and it's crazy cheap too! Hotspots include La Rhumerie and Chivas Beach Club where drinks are $1-2 (not including the 25 cent happy hour!).
Cost: Train €5; Three nights accommodation €21; Snorkelling trip €15; Food €10; Night out €25
Total Spent: €820
Time To Explore Vietnam…
Two most realistic options to get to Ho Chi Minh City, 13-hour bus journey (€12, again via Mekong Express) or a one-hour flight (€80-100 via Jetstar).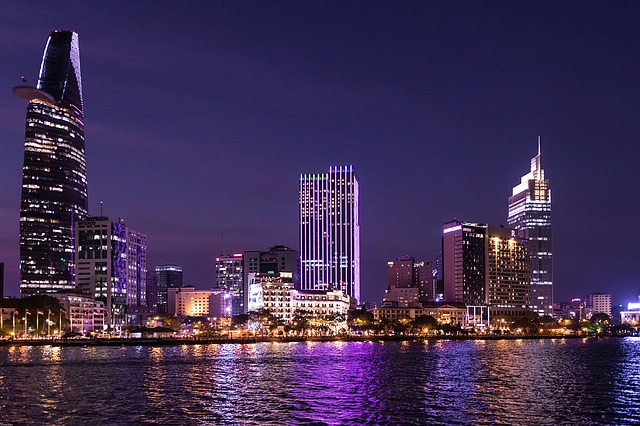 Formerly Saigon, you'll find Vietnam's biggest city and one where the old blends with the new. However unlike the similarly attributed Bangkok, this city has an irrepressible soul and arguably a far more welcoming place to visit. The city has also experienced a real boom in recent years and the city is now lined with recognisable brands and shopping centres.
First stop must be the 360-degree view on the 49th floor (Skydeck) of the Bitexco Tower, Ho Chi Minh's tallest building. Breathtaking views of HCMC will excite you to begin exploring what the city has to offer.
While the city is split into 24 districts, the majority of things to see is in District 1 where City Hall, Saigon Opera House, the Reunification Palace, Saigon Cathedral of Notre Dame (pictured above), the National History Museum and the Bitexco Tower are all situated. There are also plenty of cheap and buzzing hostels, right around the corner from Ben Thanh, the city's biggest market and guess what? Yep, that's in District 1 as well.
Another really worthwhile attraction to take in is the Cu Chi Tunnel Museum through the Vietcong's amazingly intricate tunnel systems during the War (although you do not want to be claustrophobic).
Costs: Bus €12; Skydeck €8; Two nights hostel €15-20; Tours €10; Street Food €15; Vietnam Visa on Arrival €15
Total Spent So Far: €900
Heading North To Hoi An With So Many Options
Fly? Bus? Night Train? Rent a car? All viable options, all depend on how much is left in the coffers. A flight is less than two hours but, in our humble opinion, flying over this beautiful country rather than travelling through it is a heinous crime!
The train and the bus services both stretch up the coast and both are air conditioned. A bus ticket can be as cheap as €18, stopping off to see the beautiful beaches of Nha Trang. Definitely an advisable way of splitting the 18-hour journey!
Hoi An itself is another beautiful beach town, halfway up Vietnam's coast. In fact, the entire town is a UNESCO World Heritage Site. The street food on offer here is as good as it gets and you should definitely take advantage of a culinary course that'll win any Come Dine With Me contest with your friends when you get home.
This is optional but you shouldn't leave Hoi An without a tailored suit or dress as the ratio of other shops to tailors is about 2:1! Prices range from about €60-80 for a suit and €25-40 for a dress.
Costs: Bus €18; Two Nights Accom €30 (usually includes free bike rental); Cooking Course €20 – 30; Street Food €15; Tailored Clothes (optional!) €100
Total Spent So Far: €983
Saving The Best Until Last – Hanoi And The Stunning Halong Bay
800km of Vietnamese scenery is to be negotiated before you arrive in the northern capital, Hanoi. You can take a bus, night train or a flight for this leg although be warned, even though the trains have beds and are relatively comfortable it will take you two days to get north at a cost of about €50.
Being already 14-days into your adventure, a flight arguably makes more sense, especially as daily flights are only €30 a seat (Danang airport is 15 mins from Hoi An).
Hanoi is fast becoming a modern day metropolis but the Old Quarter retains it's charm. It's a great (and free) place to spend the day. The city also has 600 temples and pagodas so that's a checklist that'll keep you busy!
The barely believable beauty of Halong Bay is world famous so bring your camera and some swim gear! Three and a half hours by bus will get you to this…
A Junk Boat Tour around the hundreds of limestone islands and through the stunning caves is arguably the most beautiful boat tour in the world and a real 'once in a lifetime' kind of voyage.
You can do it cheap and cheerful with day trips starting at around €35. However, if feasible, this is one activity where you should push the boat out (heh) and book an overnight cruise from €150 for two people sharing.
Cost: Hoi An to Hanoi flight €30; Food €15; two nights in Hanoi hostel €30; Bus return to Halong €20; Halong Day Tour €35
Total Spent So Far: €1,113
What a trip, but all good things must come to an end and so, it's time to hop back to Bangkok (€50-70 on average) after your 20-day life changing adventure.
Total Cost Of Trip: <€1,200
So there you go; one incredible adventure, one incredibly affordable cost. Want to book? Talk to our travel experts today about our Shoestring Package or let us tailor your own. Email info@usit.ie for a quote!