Unlocking The Secrets of Myanmar: Exploring Southeast Asia's Least Travelled Nation
No matter where in the world makes your Bucket List, there's always something more exciting about stepping upon less common ground. For every Italy, there is a Bulgaria. For every Brazil, there is an Ecuador. For every Thailand, there is a Myanmar.
A beautiful nation, emerging from a troubled past, the nation formerly (and more commonly) known as Burma has wholeheartedly opened it's doors to global travelers. We caught up with Liz, recently returned from an eye opening two weeks in Myanmar. Here's her travel diary…
Breaking The Misconceptions of Myanmar
Before going to Myanmar I had a lot of preconceptions about it being a very closed off, subdued and a largely untouched country.  What I discovered was that Myanmar is so much more than that and despite the many years of repression suffered by its people, they are by far the most welcoming, open and interesting people I have met! 
Myanmar has something for everyone on every budget – cities, beaches, mountains and historical sites. With 14 days to spend we hit some of the more popular spots on the tourist trail – Yangon, Mandalay, Bagan, Inle Lake and Ngapali Beach.
Yangon & Magical Mandalay
We started our Myanmar adventure landing in Yangon (the former capital) in the middle of the night. We had decided to fly internally as we only had two weeks to hit the high points of the country and didn't want to waste any time on long bus journeys. Also we had heard that the roads aren't great although I think they are much improved in the last couple of years.  I had heard a few horror reports about the safety of airlines in Myanmar but I can only say positive things about the airline we used, KBZ. They really would give Ryanair a run for their money! The flights ran on time, were clean and some of the planes were also brand new. Also you get food on all flights even where you're only up in the air for 20 minutes so if you have an early flight don't worry about breakfast, you get it on the flight!
On day 2 and after catching a few hours shut eye, we caught an early flight to Mandalay located in the middle of the country.  Mandalay is significantly poorer than Yangon but was definitely our favourite place in Myanmar!  We rarely saw cars most people travelling on mopeds and bikes. We stayed in a basic hotel ($20 a night) in the centre of town. The hotel was clean, well located and the staff could not have done more for us. On our first day we went on a taxi ride around all the temples in the city and ended the day watching sunset from Mandalay hill chatting to curious locals who wanted to improve their English. It was a surreal experience! The second day in Mandalay we did a 50km bike tour out into to the stunning countryside surrounding Myanmar. Our guide was fantastic and gave us lots of insight into Burmese culture and history – something we didn't know much about beforehand. 
Myanmar's Crown Jewel, The Bagan Temples
From Mandalay we flew to Bagan. Bagan is a religious hot spot and hosts over 3,000 pagodas and temples overlooking the Ayerwaddy river.  It's by far the most famous spot in Myanmar for tourists. We spent three nights at the beautiful Blue Bird Hotel which again had incredible staff. They helped us organise a tour of the pagodas and some electric mopeds to drive ourselves around too.  Watching the sunset from the top of a historic temple from the 16th century is something I will never forget. It really is breathtaking! The most popular temples can get very busy at sunset so try one of the temples a little off the beaten track if you want a bit more of a special experience. 
I think it's also important to undertake, even a half day tour just so you can get a bit of the history behind the temples which we really didn't get the significance of beforehand. On our last day in Bagan we did a cooking class and spent the morning in the market choosing our own dishes which was eye opening and definitely curbed my appetite a little! 
European Styles at Inle Lake
From Bagan we took a 20 minute flight to Inle lake. Inle is beautiful and almost European looking with its mountains and expansive lake. While staying in Nyuangshwe – the biggest town on the lake – we hired bikes and spent an afternoon wine tasting at a local vineyard and an evening relaxing at the hot springs! Definitely must do activities if you have time!  We also took the obligatory boat trip on the lake which was a bit disappointing but something you probably should do! Also word of warning, Inle is at a slightly higher altitude so the sun is extra strong and sunscreen is a must even on a cloudy day. Unfortunately we learned this lesson the hard way!!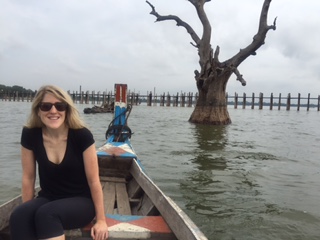 More Internal Flights, Ngapali Beach
The second last stop on our trip was to the beach for a bit of R&R. We flew to Ngapali beach – widely regarded as one of the most beautiful beaches in the world. The beach is stunning although we were there during rainy season and most bars and resorts were still closed which meant it was extra peaceful. I would say the resorts here are very expensive and so may not be for the budget conscious backpacker but there are other beaches getting in on the action further up the coast.
Back to Yangon & Shwedagon Pagoda
Finally, we spent our last two nights in Yangon. Don't be fooled by the dodgy airport, Yangon is an impressive cosmopolitan city with lots of bars, restaurants, coffee shops and shopping malls. The contrast between Yangon and Mandalay is stark. We preferred Mandalay, there was less of an American influence and it's more genuine. We spent two nights at the spectacular Belmond Governors residence. The food, the staff, the pool, everything about this hotel is perfection. Even if your budget doesn't cover the cost of staying here I would try and do cocktails are the bar or even brunch on a weekend here which is mind blowing! 
In Yangon you will have to make the obligatory trip to the Shwedagon Pagoda – the largest pagoda in Myanmar! I recommend going just as the sun is setting and when the huge gold is at its most spectacular against the dusky sky. We were bombarded by locals looking for us to pose in selfies – maybe it's the freckles and blonde hair- and I have to admit I felt like a bit of a celebrity. On our last day We strolled around the downtown area and visited the main market in the centre of the city which is great for picking up souvenirs and presents. There is some beautiful artwork to be bought if you have the room in your case and the budget to buy it! 
Verdict on Myanmar As A Travel Option?
So do I recommend Myanmar? 100% I cannot recommend it as a holiday destination any more! A lot of people have said to my that you should go before it gets too touristy and developed. To be honest I think this point has been passed a long time ago.  It's crazy meeting locals who earn $1 a day but who have a Samsung smartphone. We met several monks who had taken a vow of poverty but who still used Facebook and wanted to add us as friends! So regardless of how developed its become I would say go anyway and enjoy the amazing culture, scenery and welcome you will get from the people! 
Ready to take a step out to somewhere different? Myanmar tourism is growing rapidly, it's time to take a trip before the secret is out! Spend two weeks touring the very best of Myanmar from €1147.
Drop our travel experts a line info@usit.ie, call us on (01) 602 1906 or drop into any of our stores nationwide!