You Can Now Book Your Dream Holiday via WhatsApp! Meet The Team
Which app do you use most? If it's Tinder, you may have a problem. If it's Uber, you may need to buy a car. If it's WhatsApp, we've just made researching and booking your next adventure a whole lot easier.
Not content with our stores nationwide, the phone, web chat or social media we've now introduced WhatsApp to our growing armoury of ways in which we can help you make your most unforgettable memories around the world.
We've bestowed upon some of our most experienced (and well travelled) team their very own WhatsApp number to allow you have a better, more efficient one-to-one experience with our agents. With that in mind, now seems as good a time as any to introduce you to our dream team of travel addicts and booking experts, helping you put a face and a voice to name on an email.
Have a specific location in mind? Between us, we've been practically been everywhere and wouldn't it make more sense to talk to James about Australia and Japan with Luigi? Over to the team and their WhatsApp digits (this doesn't count as picking up someone's number FYI):
Luigi di Marzo
Bio: I believe in 3 things in life:  TRAVEL, FOOTBALL AND FOOD!  
Originally from: Rome, Italy
Specialities: Oz Visas, Sun Holidays, Volunteer, Adventure Tours, Worldwide Holidays
Where I've been: Sri Lanka, Thailand, Malaysia, Japan, Dubai, Canada, USA, Cuba, Brazil, Netherland Antilles (Bonaire, Curacao),
My favourite place in the world: Japan, the most amazing country I have ever been. The perfect fusion between technology, culture, traditions and land. Great food! Great experience, Great people! It's amazing how you can find a 300-year old temple between two skyscrapers.
Why I love to travel: Travel open minds! I love meeting people from all around the world and exchange experiences, lifestyles, culture and traditions.
Fun travel fact about me: I once got lost in the middle of a Caribbean desert while trying to reach the other side of the coast on a bike at NOON and sun was proudly shining, ah I had no water as I thought it was shorter – I SAW ALIENS ON THE WAY! also, I got lost in a Brazilian forest, the trek was only 3hrs long they said– IT TOOK ME 7hours to get to destination no sign of life but Birds, mosquitos and snakes…I LOVE ADVENTURES!  
WhatsApp number: 087 401 47 06
---
James O'Donoghue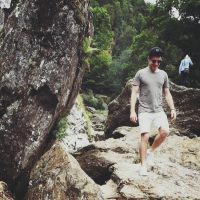 Bio: Leinster walking champion in 2005. J  Love all things travel and more often than not convince myself to book trips I shouldn't.
Originally from: Dublin
Specialities: Oz Visas, Adventure Tours, InterRail, Canada Visa, Sun Holidays
Where I've been: U.S.A, All over Europe, Australia, Bali, Dubai & Abu Dhabi, Kenya
My favourite place in the world: Bali, heaven on earth
Why I love to travel: My biggest fear is getting to the end of life to realise I never Truly lived
Fun travel fact about me: I love trying be a local after a few days like everything, language, dancing, I feel like I become a local which can be weird…for others not me! 
WhatsApp number: 0874021101
---
David Yeates
Bio: Robin Williams is my Dream Dinner Guest
Originally from: Lucan, Co. Dublin
Specialities: Visas (Australia, Canada), Cruises, Adventure Tours, Sun Holidays
Where I've been: Australia, Fiji, Europe, USA and Canada
My favourite place in the world: Fiji, it was so different to everything I have done before but I know it will change every few years
Why I love to travel: Knowledge and Culture are amazing to have, it helps understand people better and to be honest, it's too beautiful not to see this big blue planet while we have the time.
Fun travel fact about me: I went on a stag from Vancouver to Texas and when I got back 4 days later to Vancouver there was a white piece of paper stuck to the front of my bag saying "My Owner went on Holiday without me"
WhatsApp number: 0874020527
We also have Valeria for all leisure enquiries and Melanie for anything related to US Visa's.
Valeria: 0874020528
Melanie:  0874020529