Whistling By: Niamh On Her Dream Start To Life In Canada – " I live here. Its crazy to think about".
It's fair to say that 2018 is going to be a massive year for Irish emigrants leaving this little island behind for a while and swapping it for the world's second-largest nation – Canada.
A strong economy, high standard of living, a liberal forward-thinking government and arguably the most spectacular scenery anywhere in the world is making Canada look like a bit of a no-brainer for many young Irish people seeking a change.
The statistics and the reports are all well and good but what about those who have taken the leap and set up in Canada over the last year. We caught up with Niamh Byrne, one of our Canada Work & Lodge Visa Programme participants working and living in Whistler, to hear how the move has gone for her so far.
You had us at 'work dog' @NiamhYeah…
Swapping Co.Meath For British Columbia
The best decision I've ever made was to move to Canada. Plain and simple.
We got our visas, booked the flights and landed in Vancouver in September. Nearly three months on and I still love it here. Currently, I'm in Whistler working at the Four Seasons Resort. Everyone I've met so far have been so friendly, welcoming and feel like family now. The perks of the job here are the fact that on your days off, Whistler and Blackcomb mountain are right at the doorstep. It feels like I'm dreaming still. I walk to the shop to get food for the week or meet a friend for coffee and I sometimes have to stop for a moment to take it all in.
This is my home now for the year. I live here. Its crazy to think about.
Starting Out In Vancouver
Before we got to Whistler, we spent 6 weeks in Vancouver and it has to be my favorite city so far! The city has it all. It's not a giant city, a short walk and you're in Stanley Park. We got the last few days of summer thankfully and it was beautiful to cycle around the seawall and see all the sights. We lived in Kitsilano for a month with another Irish couple, the neighbourhood is beautiful and everything is so easily accessible.
It was a weird feeling stepping off the place in YVR after flying for 13 hours from Dublin to Paris and then finally Vancouver to feel at home in a place you have never been. I never had any doubts or concerns about my time here and it has been everything I thought it would be and more!
Meet My Favourite Co-Worker – Maola The Husky
This is Maola the Four Seasons Resort dog. She lives in the hotel on weekdays and we get to walk her! She's amazing.
From left to right is Sile, Ciara, myself and Chris. Capilano suspension bridge is breathtaking and would definitely recommend a trip!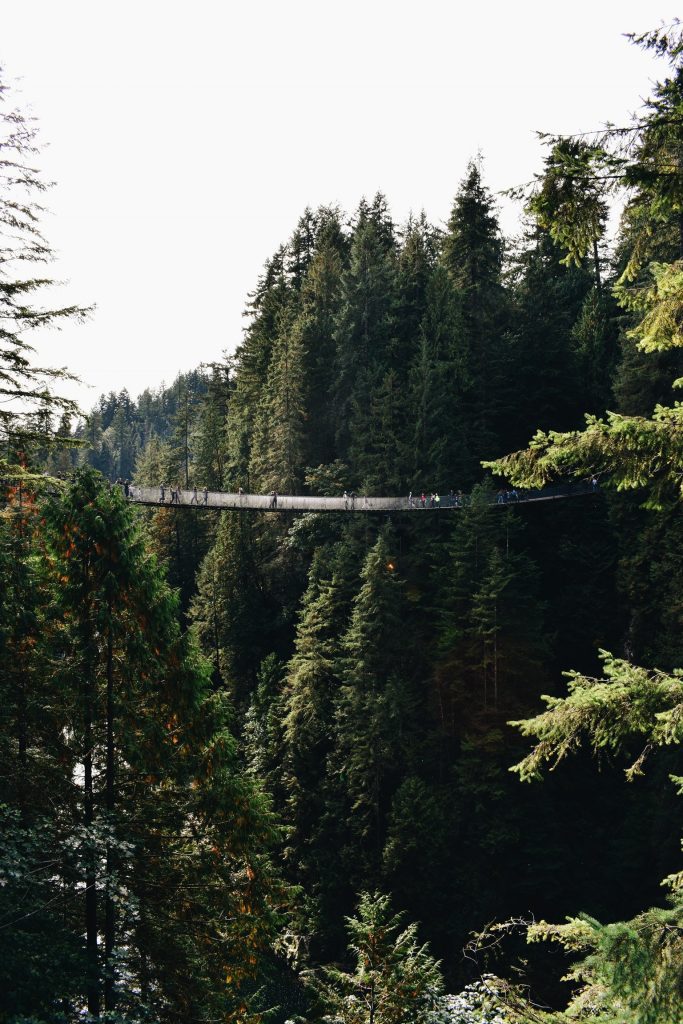 Granville Island is a great place to stroll around and see all the boats, Granville Island Brewing and all the independent sellers.
An Adventure You'll Never Forget…Just Do It!
To finish up, if anyone is thinking of making the move to Canada, do it. Be it Vancouver, Toronto or anywhere in Canada, do it. It will be an adventure you will never forget and never want to end. I've made so many friends and memories and I'm delighted I did it!
Big thanks to David Yeates and all the crew at USIT, couldn't have done it without you!
Niamh Byrne
Very few things put a bigger smile on our face than helping young Irish people find the right work and travel opportunity for them and then seeing it blossom from a venture into the unknown to a genuine home from home. Massive thanks to Niamh for sharing her Canadian experience so far and here's to making more great memories in the Rockies!
Thinking about joining Niamh in making the move to Canada? We're now accepting Visa applications with our fully licensed IEC agents. For more info head over to our dedicated Work in Canada page, email us info@usit.ie or call us on (01) 602 1906.