Matthew's Summer Coaching Soccer in the USA
In 2018, Matthew Thurston decided to apply for USIT's Coach Soccer USA, little did he know that he would have one of the best summers he has ever had. Keep reading to hear how he got on! 
It All Started With An Ad…
In 2018, my sister found an ad online from USIT for coaching soccer in America and she thought it'd be a good idea for me to do this as I hadn't decided what I was going to do that Summer, ( I think she just wanted me out of the house for a few months, to be honest). After talking with my family, I went to a trial day in Athlone to show how I would coach and how I would adapt my coaching styles to different age groups to make the experience as fun as possible while still teaching the fundamentals of soccer. Fortunately, I was accepted that same day and then the next thing I had to do was a training day in Dublin with all the Irish coaches.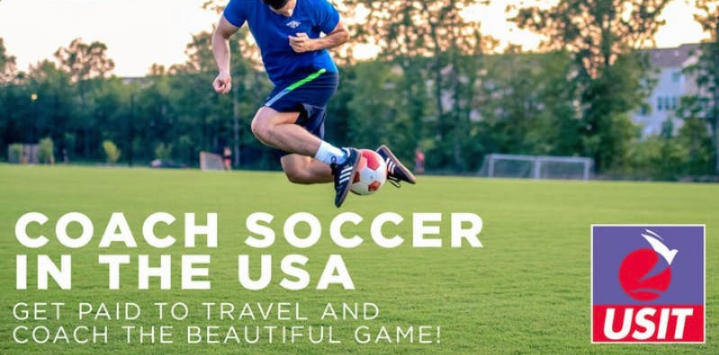 Training for Camp
This training day was to get everyone introduced to each other and ensure everyone was prepared for another training weekend in Warwick. When we had finished, we were then told what regions we would be working in and for me, it was the Kansas region which my first thought was "is that the place in the Wizard of OZ?" (It is). Once we met all the coaches from the region we were going to, we went out for a few more sessions and were done until we went to Warwick for our training weekend where we would meet the English coaches.
Warwick was a brilliant weekend, we met all the coaches and learned exactly what Challenger Sports expected from the coaches. The first day we were shown a few demonstrations of drills we could do with the kids and also some fun stuff like the banana song and 10 steps to Wembley. That night we had dinner and drinks with all the coaches and the Regional Directors. The following day we were tested by the directors on our effectiveness as coaches and once that was done, we would see everyone again when we went stateside.
Hello, Kansas City
With the soccer program, our HQ was in Kansas City where we got all our equipment, I had a driving lesson to teach me how to drive in the states as I had my license and was given a company car and also the hotel we would be staying in when back in Kansas City. Once we had our meeting it was off to our camps and my first camp was in Manhattan, Kansas. With the program you also stay with host families who, for the week, are basically your family, they will show you their area, feed you and look after you like one of their own, that was one of my favorite parts of the summer as a lot of the families you meet will stay in contact with you.
Chill Time 
I went over for 3 months and stayed with a variety of families, however, in the middle of the program, it is the 4th of July, which you get the week off for, so with our time off, we decided to rent a lake house and go partying. After a few days, I went and stayed with a host family I had been with a few weeks prior and spent the rest of the week with them until I had to go back to Kansas City for work.
Doing It All Over Again 
Overall, I had one of the best summers of my life and I can't wait to go back out and coach again, you don't need any experience coaching prior to this as you get all the training you need from the company and it really is a great opportunity which I would recommend anyone to do.
Are you interested in our Coach Soccer USA Program for summer 2020? No previous experience is needed in coaching, anyone age 18-30 is eligible to apply. Click here to find out more information and make your soccer dreams become a reality!