Wanderlust in Beautiful Bali: James' Ultimate Guide To Paradise
Dreaming of an escape to paradise on your next trip? James is just back from 3 weeks in beautiful Bali and he has more than a few highlights to share…
Bali is an incredibly unique island with a unique personality and atmosphere. There are people from all nationalities and all walks of life living on or visiting the island. The island is packed with adventure, great food, endless nights and friendly locals. To experience the warmth of Indonesia and all the Island has to offer is tough to do in a few weeks if I am honest, but we gave it our best shot!
Getting to Bali, a long slog but so worth it!
Bali is not the easiest place to get to from Ireland but it is 110% worth it when you arrive. We went through USIT using the book now pay later option which allowed me to pay a certain amount of money to guarantee my seat and gave me time to gather the funds and pay the balance by an agreed date. It was a great stress minimizer financially. USIT have loads of different Bali package options, starting from only €819 including flights!
We departed on  from Dublin at stupid o'clock and we travelled Via Amsterdam and Hong Kong. We arrived into Bali on at lunchtime the following and had an airport transfer organised by the hotel to collect us and bring us to our first hotel.
Looking back I should have done a stopover on the way or on the way back for a night or two in Singapore or Hong Kong which is a good option but at the time we just wanted to get there!
Cliffs, Surf and Insane Views of Uluwatu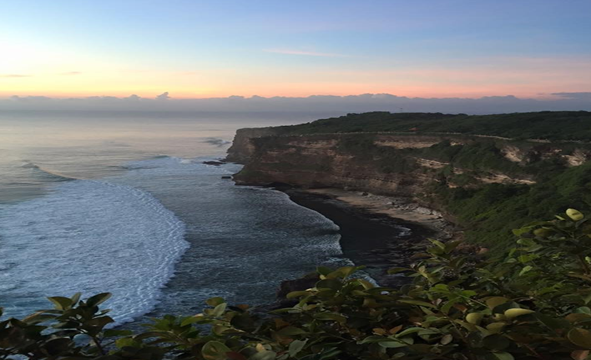 Our first location was Uluwatu which is an area located on the cliffs south west of the island. Uluwatu is famous for its great surf breaks, the Uluwatu Cliff temples and some of the best beach bars in Bali. We stayed in The Saphire Cliff villas located beside Padang Padang Beach (surfers must), Sundayz beach club and Single Finn Bar and Restaurant.
The hotel was amazing and perfect for couples as you had a private villa with complete privacy. The pool was shared but was always quiet and the hotel was never over busy which was great for a chill-out We visited the famous Cliff Temple and ate in Single Fin Restaurant  (incredible food). Single Fin also has the best views in Ulawatu. The waves crashing into the cliffs below and a sunset which left us speechless. If an Irish lad has a capacity for romance, this place will bring it out!
The Astonishing 5-Star Ayana Resort in Jimbaran
Pushing the boat out for our anniversary we stayed in the 5-star Ayana resort for our anniversary. The resort is enormous with a private beach, Luxury private villas, two hotels run by the same management but with different styles. The resort is packed with restaurants to cater for your every mood. There are a number of spectacular bars on site with more insane views of the cliffs and the sunset.
Did Someone Say Room Upgrade?
We had mentioned it was our anniversary and we were immediately upgraded to the best room in the hotel (Irish charm, we can't even control it!). The Staff were exceptional and truly set the bar for 5-star resorts across the world. Every whim was catered for and each resort worker had a smile bigger than the last. The Resort is completely self-sufficient with Bars, Restaurants, choice of pools, tennis courts, Gym, free WIFI, free transport from place to place inside the resort via Golf Buggy and a private secluded beach. You really do see another side to service and luxury staying here and I will never forget it. We ate in Rock bar on the first night which is a bar & Restaurant built into the cliffs edge overlooking the sunset. The food was tapas based and although It is more expensive than the rest of Bali, it is definitely worth it for the views and amazing food. We also ate in Kisik Restaurant also built into the cliffs and The Mexican restaurant inside the Rimba Hotel. Jimbaran is vast and outside the resorts walls there isn't much really going on. I would advise staying here for 2-3 nights anymore and it could get boring but 2-3 nights is perfect in my opinion. It is so chilled and you feel like you truly have escaped the real world and gone to resort heaven.
Party Time and Getting Loose in Seminyak
As almost perfect as the Ayana was, the one thing it lacked was a bar with live music or a party atmosphere. The bars were incredibly chilled which was nice but give me an Indonesian guy singing U2 at the top of his lungs over that any day!
Seminyak was a welcomed change to our new chilled, meditative-like state after the Ayana. Seminyak is one of the party capitals of Bali packed full of restaurants, bars, live music clubs and nightclubs to cater for whatever mood you're in.
Haven Hotel & Seminyak's Strip
We stayed in the 4-star hotel named The Haven which is located beside Double Six beach
in Seminyak and was a 10-minute taxi to the centre of the action, Seminyak Square. I would definitely recommend staying around double six beach. The surf breaks are by far the best in Seminyak and the beach has Beach clubs every 50 meters with different genres of music playing. Every bar has an outside sitting area with comfortable bean bags to chill on and watch the sunset. If you haven't guessed by now, every day ends with a sunset in Bali. We ate on the strip every night in Seminyak favourites Char Char Grill, Batik and the Italian corner. Throughout the day there a host of beach clubs you can go to, the main ones being Potato head, Ku De Ta and Cocoon. Seminyak was insanely good and pretty hectic! After 3 days we were looking forward to some R&R in our next stop, Ubud.
Underwhelming Ubud Saved By Tegenugan Waterfall
Ubud is located in central Bali and is the Cultural capital of Bali. We had been told that Ubud was much different to anywhere in Bali then we have already seen. Not as commercial, busy and fast as most other Bali tourist towns. We had an image of tranquillity in our minds that didn't really get lived up to in reality. From day one we had a bad taste in our mouth from the sheer traffic inside Ubud and trying to work our way through it to our hotel so painstakingly close. Not the tranquil haven we had been told about. Although…
Loka Hut Hotel & The Jungle
We stayed in the 5-star Lokha Hut Hotel which was located about 15 minutes outside the Ubud town centre. We got great value for the 2-night stay through USIT. An infinity pool and spa overlooked the Jungle Canopy. Now we're talking! Every morning we would be awoken by the sound of the jungle all around us and surprisingly you're not in a bad mood. It feels good to be woken up by birds chirping and monkeys cackling, much better than the dreaded iPhone sirens!
An infinity pool and spa overlooked the Jungle Canopy. Now we're talking! Every morning we would be awoken by the sound of the jungle all around us and surprisingly you're not in a bad mood. It feels good to be woken up by birds chirping and monkeys cackling, much better than the dreaded iPhone sirens!
Monkey Business
On our first day in Ubud we rented a driver for half the day and set out to see the sites. Our first stop was the monkey forest were monkeys roam freely throughout the forest looking for banana donations from much obliging tourist. If you wish to get up close and personal with the monkeys, anyone can buy bananas to hand out and make some new monkey friends. It was awesome, and hilarious! These little guys know what they want and how to get it. The Dell Boy's of the chimp world!
Tegenugan Waterfall and Oh My God!

From there went set off for Tegenugan Waterfall. The waterfall was just spectacular, I cannot stress this enough! From where your driver drops you off there is a 15-minute walk down to the waterfall and the views along the way are that of the real Bali I had envisaged in my mind. At the waterfall, you can swim in the pool made by the sheer power of the waterfall and take as many pictures as you want. We stayed for about an hour swimming in the water, taking photos and soaking up the beauty of the waterfall itself.
Backpackers Paradise in Gilli Islands & Nusa Dua
From Ubud, we arranged a car transfer to the Ferry port town of Pdang Bai to catch a ferry heading east the famous Gilli Islands. Our Hotel arranged everything and at a fairy reasonable price for the two of us. We decided to opt for the early 9am ferry which resulted in us having to leave Ubud at a painful 6am to be on time for the ferry. The ferry got us in at 11am which was perfect as the day was not wasted travelling as was a few of our days on this trip. You don't wanna be wasting time sleeping in a place like Bali!
Gilli Trawangan
We stayed in Gilli Trawangan, the biggest island out of the trio of Gilli Islands. Gilli T is the most popular for backpackers and travellers looking to escape the main island and enjoy the party atmosphere which Gilli T is famous for. The Island itself is tiny compared to its surrounding neighbours of Bali and Lombok which look like something from Jurassic park during the Ferry Crossing. There are no cars or mopeds on the island and after 2 weeks in Bali it is a welcome relief. We stayed in Villa Ombak which was located on the more popular east side of the island where all the bars & restaurants are located.
Bar Crawl, Less Than Sober Cycling and Beautiful Beaches!
We rented bikes for the day and cycled all around the island stopping off at every beach bar (one every 20 metres) to test out their drinks menu. By the time we got back around we could have done with some stabilisers but everyone else was in the same tipsy boat!  The island really is paradise and the beauty is unparalleled, the beaches on the east side are beautiful whether the tide is in or out with crystal clear blue water and white sand. Proper 'PC wallpaper' set ups.
Turtle-less Turtle Snorkelling…
We hired a boat on the second day to take us on a turtle snorkelling trip which took us to Gilli Air, the second largest of the islands. We were out all day and it's a good way to see the other islands if you plan to just stay on one of them. Gilli Air is a lot more tranquil and reserved and would be perfect for a couple of chill nights.
As we didn't see any turtles on our "TURTLE" snorkelling trip, we decided it was only right to visit the turtle conservation centre on Gilli T as they buy turtle eggs from Farmers on the surrounding islands who are taking them to sell at a market, Instead of the turtle eggs ending up in the markets, the Conservationists buy them and house them until the eggs hatch and they are ready to go back into the Ocean. They keep the baby turtles in tanks for a few weeks before releasing them so if you don't get a chance to see them snorkelling or diving then this is a must. The donation that tourists provide goes towards the maintaining of the centre and buying the eggs from the farmers.
One Last Party, Nusa Dua & The Sadness Of Having To Leave
Gilli T is full of Bars and restaurants so there is always something to do at night. The bars are packed full of backpackers and travellers enjoying the Gilli T lifestyle and partying late into the night. We left on day three to head back to the main Island, the ferry brought us back to Pdang Bai and from there we made our way to our next and final destination of Nusa Dua for some much needed R&R after the madness of Gilli T! We stayed in the Inaya Putri resort, another slice of paradise for two days before it was time to depart the most beautiful place I've ever been to, and the best adventure so far.
My Top Travel Tips For Bali
The Currency is Indonesian Rupiah. The easiest way to look at it is that €10 is 150,000 IND or €100 is 1,500,000 IND.
Always ask the Taxi drivers to go by the metre when you get in unless you have struck up a deal before getting in. the metre will give you the cheapest rate location to location.
The electricity output is the European two prong connection
Travel as light as possible if you decide to move around a good bit
Ask if there are any upgrades available in the hotels and sometimes they can be extremely cheap to upgrade to a better room.
Plan your route as best as possible to avoid long travelling days. on holiday these travelling days can be a nightmare for a simple journey.
Looking for a quote on an adventure to Bali in 2017? Give our experts a call on (01) 602 1906 or info@usit.ie.