Discovering Bali: Just Kassi's Week Long Visit To Paradise
Now that's Paddy's Day has been safely negotiated it's time to really start thinking about what you want out of your next holiday.
You've battled through a good four months or more of the dark nights, howling wind and lashing rain that is an Irish winter so let's rule out something cold shall we? Bored of your daily commute and the routine? That'll require something adventurous too. Let's add  beautiful beaches, food delivered from the Gods and a place with as much wildlife as Eden into the 'must have' category and we're getting close. Finally, looking for all this without having to frighten your bank manager too? Got it.
We've found your dream destination – it's Bali. An island paradise that is beautiful, tropical, tranquil and affordable from €859 pp for flights & accommodation for 11 days!
Having the same idea, prolific Irish travel and beauty blogger, Just Kassi spent New Year's on Indonesia's world famous crown jewel and here's her guide to making every minute count…
Just Kassi's Bali Travel Guide
It may have been almost two months since my trip to Bali but the memories are still vivid and strong. Bali has been a destination that I always wanted to visit, and which even the thought of getting there was giving me goose bumps. I have been thinking about this trip for over two years and part of my savings was to be able to make it true.
Bali is one of the most talked about places and one of the most photographed islands. A casual scroll on your Instagram account will prove it as at least one photo of Bali will pop on your feed. The expectations for Bali are set quite high even before you step your foot there and I really wanted to visit and to find out if all that is said about its beauty were true.
How to get there?
Bali is a trek, a significant one especially if you are travelling from Europe and like us all the way from Ireland. It took three planes and over twenty one hours of flying to get there but once you're comfortable in travelling long haul it doesn't register as any sort of issue. We flew with Emirates via Dubai, and then on to Singapore where we spend 3 days to explore it (read all about our trip to Singapore here). One last domestic flight from Singapore and in 2.5 hours we were landing on the island of my dreams!
The feeling when I landed in Bali airport is not easy to describe, it is felt like a dream coming true. We were all so happy and in a high! We were very excited and ready to explore Bali!
Transportation
The best and safest way to see Bali is by hiring a driver. In that case you will not have to worry about how to get from A to B and what is the best route to take. If you are lucky your driver can also be your tour guide and he can even help you with what to see and how long each site will take. However there is a catch here and this is the traffic!
The one thing that no one tells you when you get to Bali is that the traffic is bad. Mind you I have lived in Athens for five years and I know what it means driving in traffic but the traffic that Bali has, is something I have never experienced before.
In that case if you are an experienced moppet driver then you should rent a bike and explore the island in that way, but there are a lot of bikes in the island so you should be extra careful when driving.
Where to stay?
Bali is a quite large island and 7 days may not seem enough to explore it, but they are just right to give you a good idea of what it is about. We spend 2 nights in Ubud and 4 nights in Seminyak and if I was to do it again I would probably spend an extra night in Ubud as the hotel we stayed was beautiful and there is a lot to see here.
Ubud
This beautiful village in the middle of Bali is a place to visit. If all you want to visit is rural and unspoiled Bali, away from all the clubs and bars then you have to check North Bali and it's beautiful temples and country side.
The small village of Ubud is very beautiful to explore and the right place to do yoga and purchase locale goods and bargain at the markets. Make sure you bargain to get the best deals for your money as this is what everyone does there. For our stay in Ubud we decided to splurge and we went for a two night stay in Kumandalu hotel (read about it here).  The good thing is that you money can go far in Bali and a luxury hotel can actually be affordable. When you are in Ubud make sure you visit the below places.
Monkey Forest
There are lots to see in Ubud and one of the main attractions is the Monkey Forest, which is a temple ruled by monkeys and is only 2km outside of Ubud.
Goa Gajah Temple
Goa Gajah or the Elephant cave is another attraction close to Ubud. You can make a day trip out of it and combine it with the Monkey forest.
Kobi Luwak
If you are a coffee lover like me, then you will have heard of the Luwak Coffee. The way it is produced is not very pleasant but apparently it tastes delicious. We had to do a coffee tasting and a tour of how it is produced to see it for ourselves. In my opinion the taste it is indeed different but I would rather not drink coffee knowing that animals in captivity where involved that had to pick the perfect coffee seeds and then digest them.
Rice Fields
One of the nicest views I saw in Bali was at the rice fields. I got to visit two rice fields the Tabanan Jatiluwih and the Gianyar Tegallalang, as I had never actually seen a rice field before I found this view so peaceful and raw and they are worth visiting.
Seminyak
In the south part of Bali you will find the very famous Seminyak. An upper coming area where you will find all sorts of villas, fancy hotels, the famous Potato Head beach bar, and lots of restaurants. Seminyak summed up is the exact opposite of Ubud, busy, with a great night life, is there to cater those who are looking for fun nights out and partying. 
Uluwatu Temple
One of the highest temples in Bali located at the edge of a cliff in the Uluwatu area. The view by this temple is breathtaking and is definitely worth a visit. If the weather permits and you are not during the rainy season check out the Uluwatu beaches.
Nusa Dua Beach
While in Bali we didn't visit that many beaches, our priority was to see the culture, visit the temples and enjoy the massage and food. We visited Bali during Christmas which meant that we were right at the rainy season.
Although the weather was nice and hot the few showers we got did not put us in a beach mood, so the only beach we visited was Nusa Dua beach in the south of Bali and you can read about it more here.
Tanah Lot Temple
We decided to catch the very first sunset of the year in Tanah Lot and I am so happy that we got to do this, as this temple is located in one of the most beautiful beaches in Bali. It is known for its beautiful sunset and our aim was to catch the last sunrays before they hit the sea.
The view is mesmerizing and the way the waves hit the rocky beach will not be forgotten. Make sure that you allow plenty of time to get there as it can be a popular spot especially on New Year's Day.
Where To Eat?
I have been very familiar with Asian and Thai food, but I had never tried Indonesian or Balinese cuisine before, but from the moment I tried it, it became one of my favourite.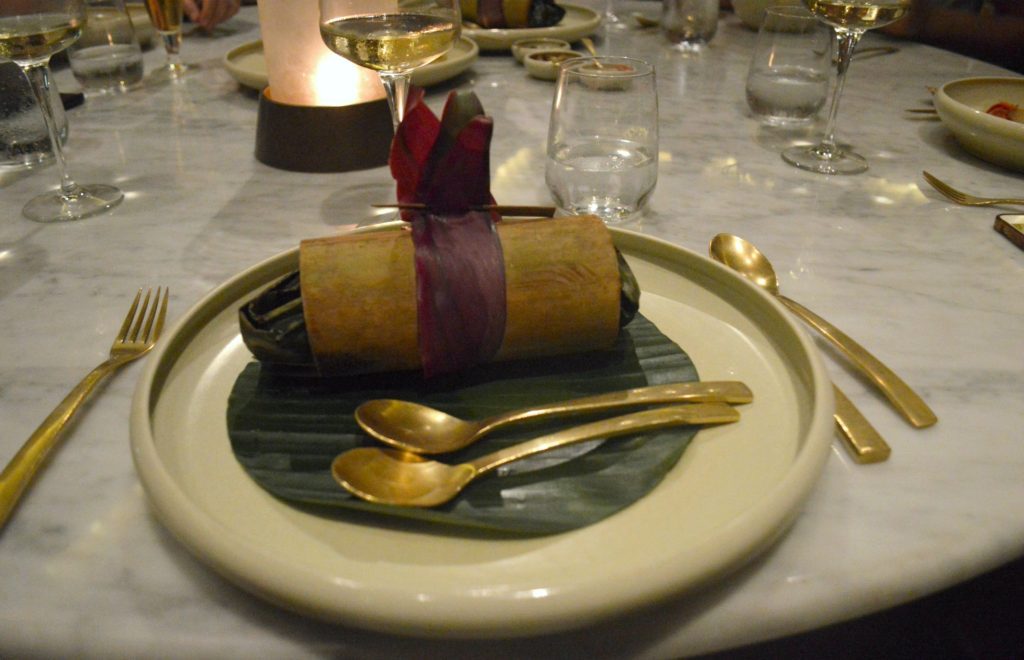 Everything I tried in Bali was delicious, and the restaurants we tried were exquisite and very well priced. Seminyak is known for some really nice restaurants and here are a few that you have to try out.  Bambu restaurant , and …where delicious but if you want to change it up from the Balineese cuisine and are looking for something more mainstream, La Luciola is a lovely Italian restaurant by the beach.
Ringing in 2017 Before Everyone Else!
If you are in Bali during New Years Eve, you will probably find out that this is the place to be! There are lots of parties going on and if you want to dance the night away you are in the right spot. However, all these parties are ticketed and sometimes an entry to a New Year' Eve part can cost you from 100 to 300 Euros. As this was not part of our plan and not part of our budget we decided to spend the count down by the beach watching the fireworks and then have our own party in our own villa.
Bali is truly a unique place to visit and I would love to get the chance to go there again, but till that time comes I will have the memories to think of.
Don't forget to subscribe to Kassi's blog and follow her adventures on Instagram!
Bali is one of our most popular sun destinations but we don't want you to book anything until you're sure it's where you want to make some memories! That's why our team of experts are on-hand to help tailor the perfect Bali experience for you. Email us info@usit.ie, call (01) 602 1906 or pop into any of our stores nationwide!