East to West Coast By Rail: Austin – New Orleans – New York
26 days – 14 cities – 10,247km.
What a journey it's been! And so our grad visa blogger, Thomas Burke, has finished in Santa Monica and heads onward to Austin and New Orleans. If you missed the last leg of his journey you can read it here.
Leaving The Beach Behind For Austin, Texas
After beautiful Santa Monica, I hopped on a train to Austin. I was really getting used to the trains and I could sleep much better. It takes a few journeys but eventually you become accustomed to being on the train and you come up with a routine for yourself. 
Halfway through the journey, there was an hour stopover in Alpine, Texas.
There's a funny story here where once we stopped, everybody rushed out of the train towards the station. Curious, I followed and everybody was queuing up in front of a lady with a bag and she was selling handmade burritos to everybody! I asked the train assistant and she said that that is the woman's business. She lives off people getting off of the Amtrak train and buying her burritos. I thought it was really cool. She knows all the Amtrak staff and knows some of the regular travelers who take this route regularly. I bought one to help her out and it was delicious!
The Graffiti Park, Austin
After stuffing myself, I had to check out Graffiti Park. It is what it says to be honest, an old park which allows local artists or anybody to express themselves using art and graffiti. It's small but very cool. It was quiet when I arrived but there were three or four people spray painting. They were clearly very talented and it was a cool experience seeing them at their work. If you walk to the top of the park, there is also a nice view of Austin.
The Texas Capitol Building
Austin is a university city and the campus is spread throughout the city. There are students all over the place! The main section of the campus is well worth checking out. It's beautiful with many historical sites dotted around it. I know you can get tours but I just didn't get the time. Definitely, the main attraction is the Texas Capitol building. It's huge and well worth a photo!
Austin is small so I pretty much covered it all in my first day. So the next day, I decided to go for a hike. I found one called the Barton Creek Greenbelt. I'd highly recommend it to anyone interested in hiking or walking. You can get a bus straight to the start point about twenty minutes out of the city and it takes about three or four hours to complete. Fortunately, it was a beautiful day when I arrived so I packed water and food and away I went. It wasn't that tough, I met some nice people along the way and managed to grab some beautiful scenery.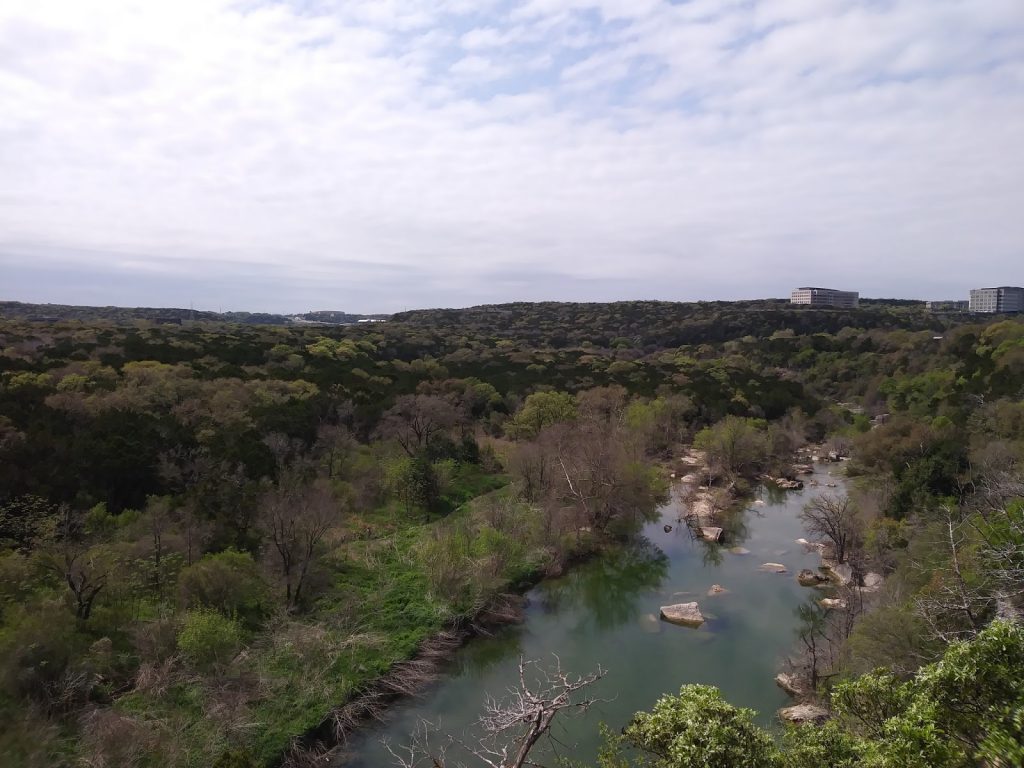 Austin – A Super Chilled College Town
Overall, I loved Austin. It had a really chill vibe with the university population. It was definitely smaller than I thought and although I only had two days there, I felt like I had accomplished a lot there.
Unfortunately, my trip was coming to an end but I had one last stop to do, New Orleans!
After Austin, I had an 8hr night stopover in San Antonio, Texas first before I moved on to New Orleans. It was a bit of hassle and I wished I could have just went direct but it wasn't to be. On my travels, I learned to just be positive and push on. It was never going to go perfect with so many train times and stops.
Austin – (night stopover in San Antonio) –  New Orleans – Crescent – Departed at 6.30pm on 9th March. Total journey time approx. 28 hours.
New Orleans Does Paddy's Day
I was meeting three friends who live in New York in New Orleans. They all flew the night before I arrived. New Orleans was celebrating Paddy's Day that weekend so we checked out the parade and it was mental! It was a sea of green everywhere and Americans celebrate Paddy's Day 100 times bigger than we do! There was a great vibe, people were handing out barbecue food and the weather was beautiful so it was a win win for everybody!
All About The Music
What New Orleans is most famous for is it's music and I can see why. Everywhere you walk you can hear blues and jazz.  We were walking around late one night and managed to catch this guy playing the saxophone on the street. He came straight up to my camera and played directly into it. A really cool experience. The French Quarter is an area where you have to check out, everything happens here!
One must visit to Preservation Hall in New Orleans. I don't have any photos of it because they don't allow the use of phones at all! Preservation Hall is a very old and famous live music venue in the heart of the city. It displays intimate acoustic New Orleans jazz, sometimes originating back to the origins of jazz itself. You can pre book tickets or queue up before the shows. The capacity is about 100 people and you are right among the band as they are playing. 
Cafe Du Monde
Another place you have to check out is Cafe Du Monde. It's a very famous coffee shop which sells signature doughnuts (get the hot chocolate too, it's unbelievable!). It's open 24 hours but no matter the time, there is a queue.
New Orleans was my final stop on the trip. I hopped on the train back to NYC and there was word of a massive snowstorm. Fortunately, the storm wasn't as bad as feared so the train was only a little late. When I saw all the snow, I made my way to Times Square and managed to get one of my favourite photos of my 18 months in NYC!
The US by Train: The Verdict
I hope you enjoyed these posts of my travels. I just wanted to give people an account on what it is like to use Amtrak and travel America in general. Would I recommend it to people? Absolutely. It only cost me $700 to for all of the train journeys and you get to see parts of the country which you will never see by any other means of travel.
However, there are negatives. Some of the journeys are very long, the food on the train is quite poor overall considering you have to rely on it a lot of the time. While it didn't happen to me much at all surprisingly, there can be lengthy delays at times (up to a few days at a time) because of mechanical faults with the trains.
Massive thanks to Tom for sharing his incredible journey with us over these last few weeks. If there's one man who now knows the best of the US, it's him. Make sure to follow Tom on Instagram and if you've any questions about the US Grad Visa programme you can shoot him a mail burkey91.tb@gmail.com