A Year in Dallas: 5 Reasons It's A Great Place For Irish Graduates
We're not gonna sugarcoat it, getting yourself a high flying job in Manhattan isn't without it's challenges. It takes nerve, there is the possibility of failure but those who dream of the NYC life, be bold and go for it…just don't do it without a contingency plan nestled under your wing.
Following on from our in-depth feature on Austin, we're getting under the hood of another Texan metropolis, home to 6.8m people including one Irishman who now calls it home. Here's all that Dallas has going for it…
1. Jobs – A Huge Increase in Jobs
Since 2010 more than 75 companies have opened operations in Dallas.  That's created almost 500,000 jobs. 21 of the Fortune 500 operate here including Toyota, American Airlines, AT&T and Jacobs Engineering.
Dallas has made remarkably steady and impressive growth figures in terms of not only jobs but also wages since the end of the Noughties. According to Forbes, growth projections for jobs in Dallas is 3.25% (4th highest in the US) and wages of nearly 6%. The average salary commanded in Dallas is $49,030.
Colm Hand, a Business Mgt graduate from DIT, landed a role working with sports travel firm in the heart of the city.
"The cost of living and income tax are amongst the lowest in the US. I really enjoyed having some money in my pocket to spend time exploring other cities during my time here".
Here's a crazy statistic about the Dallas economy. If it were its own country, it would be the 27th biggest in the world in terms of GDP in 2016! That's bigger than the UAE, bigger than Austria and bigger than Ireland.
2. America's 4th Busiest Airport And Access All Areas
If you're a recent graduate not interested in seeing new places and exploring new cultures then you can leave, this stuff isn't for you.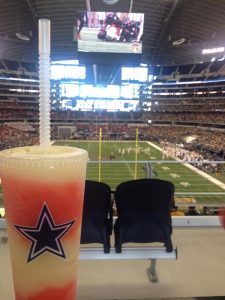 If, on the other hand, you want to strike that balance between making a big stride towards a bright future without sacrificing that Wanderlust urge, Dallas becomes an intriguing option.
The 'long weekend' potential of being based in Dallas is staggering! Fancy Cancun, Mexico City or Toronto? Three hours away. New York, Miami, San Francisco or San Jose? Four hours. Even the Caribbean is well within your reach @ 5/6 hours to Cuba, Punta Cana or the Bahamas.
"Dallas is a perfect base to explore both coasts and even travel to South America before, during or after your visa", says Colm.
3. Renting Is Less Of A Problem in Dallas
This is where choosing to base yourself in Dallas on a Graduate Visa really stands out. Latest average rental figures in the US show massive cost savings in finding a place to live.
Currently, San Francisco has the most expensive average rent at an eye-watering $2,430 per month. This is closely followed by New York ($2,090) with San Diego ($1,550) and even Portland ($1,100) exceeding $1,000. The average in Dallas as of August 2017? $890! That makes it the 44th most expensive city in the US.
4. Once You Move To Dallas, You Become A 'Dallasonian'
There is a potential deal-breaker if you're looking at relocating to Dallas. If you're one of those people who dislikes friendly strangers and hates a sense of community (on a bigger scale) then you may find it hard to avoid making friends.
Conversations will be sprinkled with sir, ma'am, howdy and ya'll with a welcoming smile and more often than not a tip of a cowboy hat. Once the locals figure out that you're a Paddy, the welcome can only be all the more alluring.
This was something Colm took full advantage of. "Being the Irish guy in the office and working with suppliers can also be beneficial with so many Americans claiming Irish heritage you can easily build your network. For a small country, Ireland definitely packs a punch on the international stage". 
"Texans are a lot friendlier than the stereotypes might suggest. There is definitely some truth to the Southern Hospitality label with people always looking out for each other".
5. A Great Place To Get C̶u̶l̶t̶u̶r̶e̶d̶  Fed
Dallas BBQ's are next level! This is a place where the art of cooking meat is as much a necessary skill as an Irishman asking permission to go to the toilet as Gaeilge.
Slow cooked briskets, smoked in oak and hickory with BBQ sauce, coleslaw and corn on the cob all freshly prepared by a pitmaster (how good a job title is that?)
Dallas doesn't just excel at BBQ either. Being in close proximity to Mexico not only makes the place wonderfully diverse, they've brought their own world renowned culinary arts with them.
"Being so close to Mexico, the food culture is second to none with Tex-Mex and BBQ at the forefront!"
Bonus round: We haven't even mentioned the weather! How does 11 months of sunshine with many of those topping 30 degrees sound?
There are now less than 200 Graduate Visas available for 2017 and August is usually peak period for applications. If you're seriously considering spending a year living and working in the US now that your degree is secured, it's time to act. Contact our Grad Visa Program Manager via Melanie.Young@usit.ie, Whatsapp on 087 4020529 or pop into our Dublin office.