The J1 Summer Work and Travel Programme 2018 Is Now Open! Here's What You Need To Know
Now here's some welcome news to combat the shorter evenings and that chill in the air. Seven months from now you could be setting off on the biggest and best adventure of your life across the Atlantic. It's official, the USIT J1 Work and Travel Summer Programme is now open for 2018 and this is everything you need to know…
First Things First…
For anyone who may have been worried about the future of J1 visa programme in 2018.
The 2018 Summer J1 visa programme is open.  The US Sponsors and US Embassy are operating as normal and expect even greater numbers travelling to the US on their summer J1 visas in 2018. Who knows what the future holds but in 2018, the J1 programme is still the No.1 summer travel opportunity for Irish students.
Get a job! Sorry to be blunt, but it's required before you travel to be issued a J1 visa. Thankfully for you, we've fostered partnerships with restaurant chains, family-run businesses, theme parks, tourist hotspots and hundreds more employers across the US. This means we can guarantee all J1 applicants job interviews in preferred destinations on a first-come-first-served basis.
Some of you will have your own jobs lined up and for that reason we have again split our J1 packages between the Basic and the Premium,
The Basic J1 Package – €99 Until Nov 24th
Quick and not so dirty. We'll process your visa, your work papers and all that boring paperwork to make your J1 visa a reality. In terms of sourcing your summer job, that's all on you and presumably, your Aunt/Uncle/Cousin/Penpal who owns a bar in California…
Those who are single-minded about their plans next summer should be rewarded for it. That's why our Early Bird price is just €99 until the 17th of Nov! That's a saving of €400 or heading up to the Chicago 360 Observation Deck 20 times!
The Premium J1 Package – €399 Until Nov 24th
Not keen on the stress and uncertainty of sourcing your own job? Let us do it for you with our Premium package! This year we have thousands of positions available all over the US, including being the only Irish visa and jobs provider to have partnered with employers in San Diego.
New York, Chicago, Boston, San Fran, LA, Austin, Miami – we've got employers dying to hire you next summer in them all! As with previous years, we'll be holding huge Hiring Fair's, the first of which is confirmed for 21st February 2018, with dozens of US employers in attendance and over 1,000 jobs to be filled. You'll need to be a premium package J1er to attend the party though.
We'll also have virtual interviews over Skype and we'll keep working with you until you hear those two magic words – You're hired! Get yourself on Premium before the 17th Nov and you'll save €300 (or an afternoon atop the Empire State Building for you and eight buddies!).
Are you at least 18 on the 15th May 2018? Enrolled in any Irish third level college studying towards a degree or higher qualification? If so, all aboard!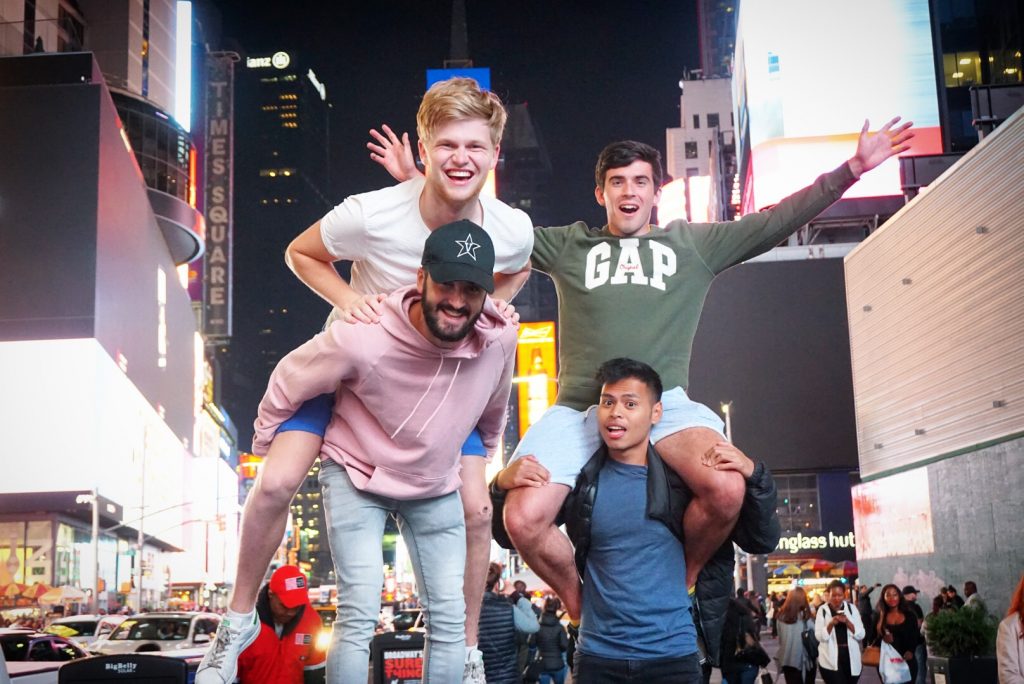 There are a few variables at work here, for example, the package you choose and rather more obviously, where you're going to fly to.
Here's the full breakdown of every cost involved excluding sun lotion (approx €700 if you're from Cavan) and Lollapalooza tickets (Killers, Arcade Fire, MUSE, Whiz Khalifa, Liam Gallagher but to name a few).
All roads lead to j1online.ie where you can review both packages, eligibility, destinations, costs, FAQ's and some J1 tips worth their weight in gold.
Once your deposit is in, the dream starts to become a reality.
The most important question to any J1 summer deserves more coverage than this! That's why you need to sign up for our newsletter and watch our blog, social media channels and attend our college talks for where's hot and where's not in 2018!
Got a question for our J1 team? Email us programmes@usit.ie or call (01) 602 1906.