So we caught up with J1er, Issa, who spent last summer in the idyllic Myrtle Beach in South Carolina. He told us about his whole experience, from what kind of work you can get, where to stay, and he even told us where to hit up once work is done. Are you jet setting off to the States this summer for a J1 but don't have a job secured? Don't worry, we've got you covered. We'll be hosting another jobs fair specific to Myrtle Beach so if this sounds like something you'd be interested in, I would encourage you to read on. You won't be disappointed!
Around this time last year (March 2017) , I was in the same situation that many J1 students face every year, no job and no idea where I was going to spend the upcoming summer in America. It got to a stage after sending out over 200 emails and making 50 phone calls to businesses in San Diego, San Francisco and Santa Barbara, the time was right to move on and find somewhere else before it was too late.
Luckily thanks to a recommendation from a friend who spent the previous summer in Myrtle Beach, I decided to follow suit and the summer of 2017 ended up being one that I will never forget!
In this post, I will go through why you should spend your J1 in Myrtle Beach like I did and have the best summer ever in doing so!
LOCATION
Myrtle Beach, SC is a reasonably small vacation resort on the east coast of America with a 60 mile long beach. It has a population of 50,000 residents but during the summer months up to 500,000 tourists visit the area. It may be small but it still has a regional airport. Unfortunately, it does not operate direct flights to Ireland so if you are coming from Dublin, you will most likely have to layover in Atlanta Hartsfield-Jackson International airport or JFK.
EMPLOYMENT
Despite being a small city, Myrtle Beach has a wide variety of jobs available for students on J1 visa's for the duration of their stay (May/June-August). When I was over there last year, I worked as a "Ride Operator" in the Family Kingdom Amusement Park. Many of the other students worked at places such as Kilwins, the Gay Dolphin Gift Shop, Iggy's on the Boardwalk and various locations on Broadway at the Beach. There is always jobs available in Myrtle Beach throughout the summer and especially if you are looking for a 2nd job just to make up some extra cash to travel at the end of the summer. However the minimum wage is low in the state of South Carolina ($8) (approx €6.50). It is more than enough to survive on, especially as the standard of living in Myrtle Beach is one of the lowest for a J1 destination! If you are working as a waiter/waitress and depending on the location in Myrtle, you will walk away with anything between $80-$200 (€65-€165) on a good night in tips!
WEATHER
For the most part, the weather is just beautiful. Temperatures range between 20-33 degrees giving Myrtle Beach a clear advantage over many J1 destinations. Of course the weather will not always be perfect and there will be days where it can be overcast and the occasional thunderstorm may happen. By the end of the summer you will either leave with a great tan or come home looking like a red lobster!
PEOPLE
The number of Irish J1 students that come to Myrtle Beach every summer is around the 200 mark, and this is obviously peanuts compared to the likes of Boston, New York and Chicago but I found this an advantage. There are less J1 students, so you tend to run into each other more often, whether it's in the same nightclub or bar, living in the same motel or apartments or even working in the same job as each other. Another discovery I made over the summer whether it's in America or anywhere you go, the Irish will always look out for one another in any situation. You can also join this Facebook group too and get to know people before you even get over there!
The local people are very friendly and over the summer I learned the true meaning of "Southern Hospitality". The residents of Myrtle Beach were always most helpful to me and the other students. Whether it was the server at  Mamma Mias pizzeria after a night out, or the teller at Wells Fargo or even my co-workers at Family Kingdom. They always went that extra mile to help you, which you rarely get these days!
ACCOMMODATION
Accommodation isn't hard to come by in Myrtle Beach but you just have to be careful as to who you trust when handing over money for deposits and rent! Last year I stayed in Fountainbleu Inn and I couldn't recommend it enough.  The majority of the Irish who were in Myrtle Beach either stayed there or in the Oasis Motel which is just a stone's throw away. The atmosphere and craic was great every night and by living in the Fountainbleu Inn, it added to the experience and I was lucky enough to make some amazing friends as a result. There is a choice of 2, 4 and 6 bedroom dorms available and most of them have an oven and stove for cooking. The rooms are basic, it's exactly what you need as you'll be spending your time working, partying or doing various activities which I will mention later on!
NIGHTLIFE
Obviously the big issue in America for Irish students is having to be 21 years old to enter clubs and consume alcohol. Myrtle Beach is not any different. However, whether you are 19, 20 or 21 in Myrtle Beach, it doesn't make a whole lot of difference to be perfectly honest. You WILL have a good time regardless.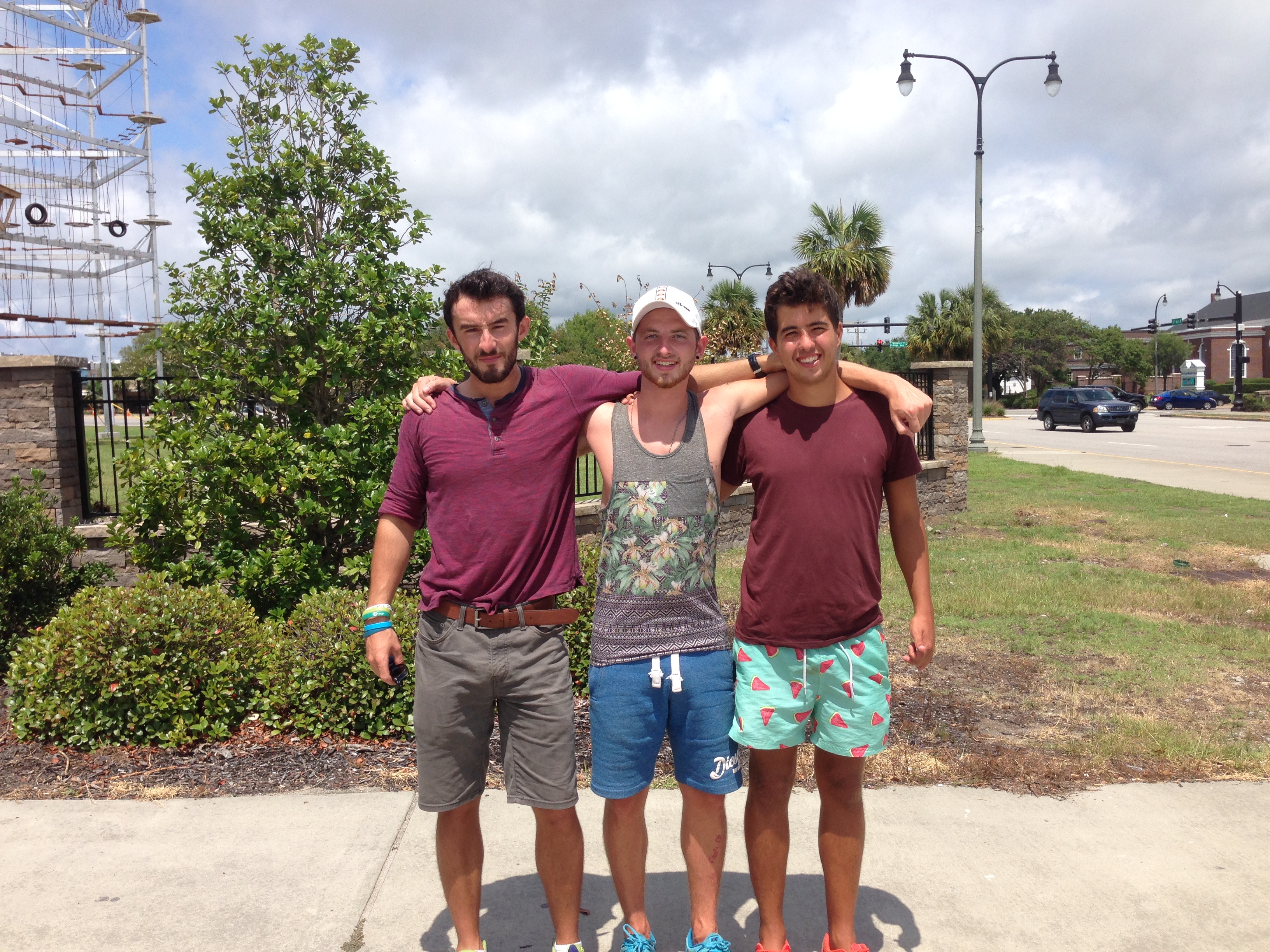 In terms of nightlife in Myrtle Beach, there are a variety of places you can go. Sharkey's, which is located right beside Fountainbleau, offer special Irish and International nights every week with cheap drink prices. Tongy's in Conway is the go to spot on a Wednesday. It is a college bar with cheap drinks and beer pong going on! It is a great midweek option to have and it is only 20 minutes or so away from Myrtle. However, Sunday's in Myrtle Beach are hard to beat. It starts off slowly in Fountainbleau with a pool party early on in the day, then at about 5-6pm you head off to the Boathouse, which is a large bar located right beside a river with live outdoor music. If you ask any J1er who went to Myrtle Beach, they will have nothing but good words to say about The Boathouse. After the Boathouse finishes up around 11pm or so, you would usually head on to Senor Frogs at Broadway on the Beach which might be described as a Mexican late night bar or just head back to Fountainbleu where there will be always something going on!
THINGS TO DO
When it comes to finding something to do before work or when you have a day off, you won't be bored in Myrtle Beach. Anyone who likes to play golf, there's a huge number of top range 18 hole golf courses in the area in addition to the numerous amounts of mini golf courses that are perfect if you're looking for something to do for an hour or two! Mt Atlanticus is probably the best mini golf course in Myrtle Beach and it's located right next to Fountainbleau! As it's a Seaside Resort, there are so many water activities like Parasailing, Banana boats and Jet ski's. Broadway At The Beach is perfect for spending a day off, you have many things to do like Ripleys Aquarium, Rockclimbing, Go Karts, Zipline etc. Broadway is very easy to reach as there are shuttle buses going from nearby Fountainbleu every 15 minutes. It is one of those places that you would have to go more than once if you wanted to do everything that is on offer at Broadway. Another favorite is Myrtle Waves Water Park, which is probably the best in Myrtle Beach. Four blocks further down from Fountainbleau is the Family Kingdom Amusement and Water Park. The Amusement Park is worth checking out but the Water Park is pretty small and is really for younger kids.
Believe it or not Myrtle Beach has its own team called the Myrtle Beach Pelicans. During the summer depending on fixtures, they play quite regularly at  their home stadium most days during the week. I highly recommend going at least once. A ticket costs about $12 dollars and for the first 2 hours of the game you can get $1 beers which is hard to turn down!
Finally the last thing you have to do whilst in Myrtle Beach is head on a day trip to Charleston with none other than Randy May. For the price of $50 dollars, he brings you to and from Charleston which is a two hour journey from Myrtle Beach. On the way there one gets to view two Plantation houses, one of which is called the Boone Hall Plantation. The house from The Notebook was filmed here in addition to some scenes from the movie. Ryan Reynolds and Blake Lively also married here back in 2012. You also get to walk around Charleston which is beautiful before going for dinner and heading back to Myrtle Beach. Of all the tours I have ever taken and probably will ever take, there is no tour guide that can compare to Randy May. The man has an excellent knowledge of history of the area and in addition to being an absolute legend in these parts, he is also very helpful to all J1 students that come to Myrtle Beach!
 There is information I probably failed to recall at this time but trust me if you decide to spend your J1 Summer in Myrtle Beach, you will have as much fun if not more than you would have in any other destination in the USA.
I would only love to be doing it all over again!
You can keep up with Issa Flynn's adventures by going over to his Instagram page now!