Top 10 Things to do in Toronto
1.  The CN Tower
The CN tower is a defining part of the Toronto skyline. Standing at 553 m, the CN tower is the ninth tallest freestanding structure in the world and has been named one of the 7 wonders of the modern world. It offers a breathtaking view of the city and also has a floor made of glass for the brave souls out there. The CN tower is a must-see!
Photo by Patrick Tomasso
2.  Ripley's Aquarium of Canada
With over 20,000 exotic sea creatures, the Ripley's Aquarium of Canada is a great place to visit. It has an underwater tunnel with a moving conveyor belt so you can see the fish like you never have before. Here are a few of the exotic fish in their exhibits: picasso triggerfish, emperor angelfish, pajama cardinalfish, and unicorn surgeonfish. If those don't sound interesting to you, I don't know what will.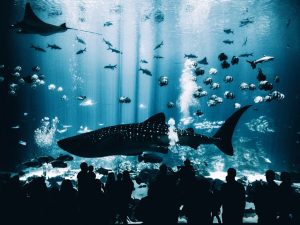 Photo by Matt Helbig
3. Scotiabank Arena
Go to the Scotiabank Arena, formerly Air Canada Centre, to catch a sporting event, concert, or stand up comedy performance. The Toronto Maple Leafs and the Toronto Raptors play here, and huge names in music perform here all the time.
Photo by JC Gellidon
4.  High Park
High park spans across 400 acres and features a zoo, a pond, an ice rink, and many other attractions. It's a perfect place for couples, families and friends. You'll never run out of things to do here, and the nature is a perfect place when you want to get away from the bustling city.
Photo by Khurt Williams
5.  Royal Ontario Museum
The Royal Ontario museum is Canada's largest museum for natural history and world cultures. You can learn about ancient cultures and observe the fossils of the giant creatures that once roamed the earth. Enlighten yourself!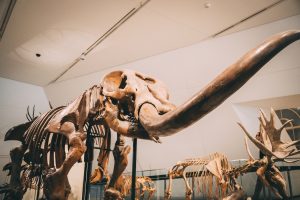 Photo by Justin Warnyr
6.  Distillery Historic District
Toronto's distillery district was once housed the Gooderham and Worts Distillery, which was once one of the largest distilleries in North America. Now it is an exciting area that combines history with entertainment. There are diners, art galleries, performances and even a beer store that sells over 350 brands of beer. Check it out!
Photo by Adam Wilson
7.  Toronto Islands
The Toronto Islands are just a 13 minute ferry ride from downtown Toronto. There beaches, kayak rentals, an amusement park, and a theatre, all within the 5 km set of islands. All 15 islands are interconnected by bridges, and the view of the city is fantastic. There's even a clothing optional beach if you're bold enough! 😉
Photo by Scott Webb
8.  Toronto Nightlife
Toronto has a place called the Entertainment District which is home to most of the city's nightclubs. Cube, UNIUN, Orchid Nightclub, and Parlour are all examples of great nightclubs to visit with your friends and grab a few drinks. There are also great restaurants here where you can grab a late night meal post-clubbing.
Photo by Modesta Žemgulytė
9.  Toronto Eaton Center
The Toronto Center attracts the most visitors of any shopping mall in North America at around 50 million people per year. The mall has a unique layout with glass ceilings and sparkling white floors and walls. With more than 250 stores, this shopping emporium will have things you didn't even know you needed. Shopaholics rejoice!
Photo by freestocks.org
10.  Canada's Wonderland
Located only 40 km from Toronto is Canada's Wonderland, the largest amusement park in Canada. The park includes 16 roller coasters and a water park which are guaranteed to get your adrenaline pumping. If you're looking for a thrill or to cool off on those hot summer days, be sure to visit Canada's Wonderland.
Photo by Lily Banse