J1: The World is Our Classroom
I was in Paris walking down near to the Louvre when I first heard about the J1 Visa through USIT. My friend called me, full of excitement, saying that he'd seen an advertisement for the early-bird offer, which was only €99! I thought he was having me on – he wasn't. We decided then and there that we'd go and I don't regret it one bit!
The application process was very simple. All it takes is ten minutes of providing fairly standard details, payment and some supporting information and documents. Once you've applied, you're given a Personal Portal where you can log in and check the progress of your application. Through the Portal you can keep track of things like your flight details, insurance, job interviews, job offers, and so on. It's super handy to have everything in one place and it sure beats doing it manually. If you're organised and complete the application steps in good time, you can secure your job, visa and accommodation as early as February or March. All in all, from start to finish, and thanks to USIT's help, I had mine completely sorted within three months. Happy days!
Myself and my friend ended up in New York, working in Central Park and living with three lovely Irish ladies in Brooklyn. If any of you are thinking of heading for New York, I would highly recommend Brooklyn – it's the place to be for young people and the neighbourhoods of Williamsburg and Bushwick are undergoing a hipster revolution at the moment. There's always something going on out there.
Once you've checked off all of the application stages on your Portal it's time to sit back and look forward to an amazing summer. I know everyone who's been on a J1 says things like that, and you might be tempted to think we're all exaggerating and over-hyping the experience. We're really not. It's guaranteed to be one of the best, most exciting and most educational three to four months of your life. You'll meet lifelong friends, make lifelong memories and get to experience the culture of another continent in ways you otherwise would never be able to. So be excited – the summer of a lifetime awaits!
I was lucky this enough this summer to participate in one such exchange programme in the United States of America, where I slowly deepened my knowledge of this vast continent. I was also lucky enough to attend the CIEE Civic Leadership Summit, held annually in the American University in Washington D.C. This opportunity was presented to me through the USIT J1 programme.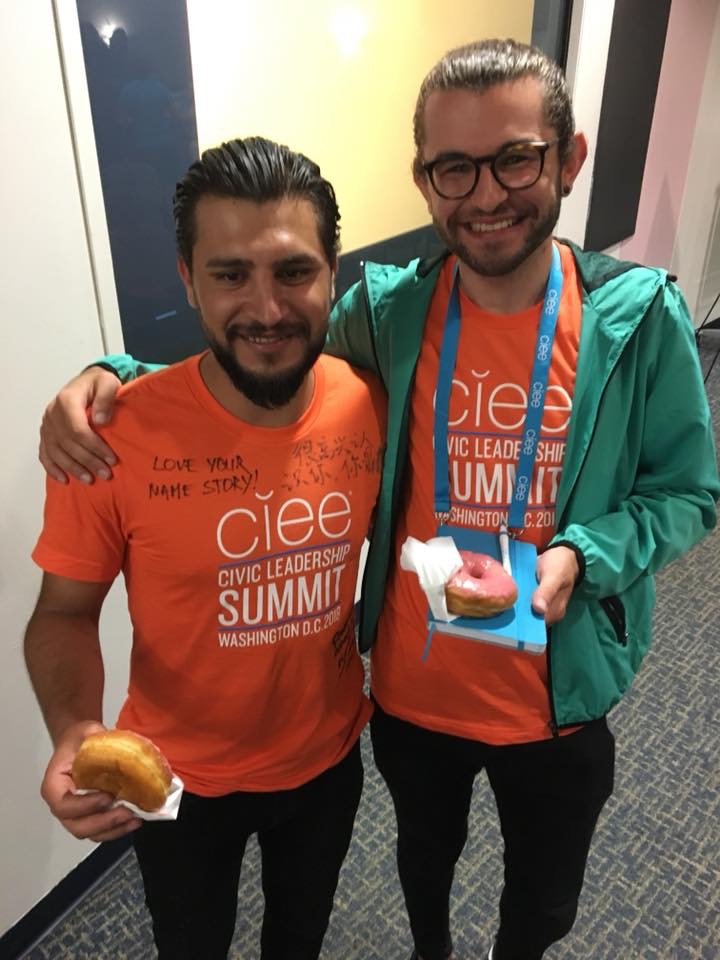 The three-day-long summit itself is organised on the backbone of formal lectures, workshops and field challenges in spheres such as intercultural awareness, justice, politics, civics, leadership and social entrepreneurship — the intention being to inspire and produce the next generation of social change-makers. Yet it isn't merely an intention: it's a tried and tested method. Returning to the summit this year in order to address everyone was Alaa Elyamany, co-founder of ExEgypt, a non-profit organisation which works to educate lower-class youths in the Middle East on the importance of environmentalism.
Now I wish to share something that is close to my heart. I wish to tell you about the people who attended the event. On the opening night of the summit, as we feasted on our evening meal, the aforementioned Alaa delivered his speech to us. It will be a long time before I forget the line he concluded with. In an attempt to encourage us to embrace the opportunity that then lay before us, he said, "Remember, there are no strangers in this room — only life-long friends you haven't met yet." These words initially struck me as somewhat banal, but I was wrong.
It's difficult to express in words just how amazing an experience it was to become so close to other people in such a short space of time. This was the result of the all workshops which we took part in together. The activities focused on fostering sincere connections with people of other cultures through purposed question-and-answer tasks. It must also have been due to the fact that before our meeting we already knew that we would have many shared interests, values and ambitions — a more or less common way of perceiving and acting upon the world. Most of all, the intense bonds forged between forty strangers in only three days time are attributable to everyone's willingness to dismantle their defences.
I cannot express enough how warming it was to be in the presence of forty other human beings who cared for nothing more than they cared for knowing you deeply and completely — and for you to do likewise. I sensed a rush of heavy energy, a surge of lust for conversation, a flourishing of faith in our ability to empathise and to communicate coming over me as I sat here recalling it all. In the time it takes to consume a generous bowl of cornflakes, for example, I learned about the struggles of my neighbour, Bojan, who as a flamboyant filmmaker in rural Macedonia, routinely deals with the pressures of entrenched behavioural norms, of rigid gender roles and of what he called the 'omnipresent eye of the gossiping neighbour'.
I have realised, this summer — not only during my time at the summit but during my time in the United States more generally — that one can form deep bonds with just about anyone in no time at all, as long as both parties are willing to speak and to share without reserve. I've made lasting friends with forty strangers in the space of three days.
Usually, I learn from books and newspapers. This summer I have discovered that the world is my classroom — and all the people in it, my precious and plentiful textbooks.
Want to know a bit more about the J1 2019 Programme? Not a problem
You can contact our experts at;
Email – programmes@usit.ie
Phone – 01 602 1667 
Or you can pop in for a chat – 19/21 Aston Quay, Dublin 2, Ireland