Exploring New York on a Budget
Make the most of your J1 summer with my essential tips for exploring New York on a budget!
I spent my J1 summer living and working in the Big Apple and there really is nowhere else in the world quite like it. The famous metropolis has been the subject of songs, films and TV shows the world over and it certainly did live up to all my expectations! However, as a student, I soon realised just how expensive New York can be. From extortionate rent prices to subway tickets to tipping everyone from your cab drivers to barmen, my purse was soon left lighter than expected. But with a whole summer stretching out in front of me in one of the most amazing cities in the world, I was determined to experience everything that New York had to offer on a budget. After four months in the Big Apple, here are a few of my best penny-pinching tips for helping your dollars last all summer long.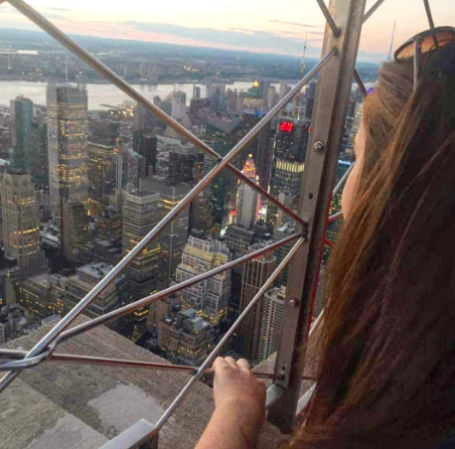 Visit Museums on Free Days or Make a Donation
New York is home to some of the world's most incredible museums from The Natural History Museum, The Metropolitan Museum of Art, The Frick Collection…the list goes on! As an Art History student, I was eager to visit as many museums and art galleries as possible, but unfortunately, the cost of visiting museums can quickly add up with many carrying hefty $25 price tags. But not to worry, I soon realised that you can see most of the city's top cultural attractions for free if you know when to go! If you can face the crowds, the Museum Mile festival in June is a great way to see the Guggenheim and other prestigious fine art institutions free of charge. Fifth Avenue is closed to traffic, the museums open their doors, and street performers flood the tree-lined path down the side of Central Park meaning even if you're not interested in art it's still a great way to spend an evening.
If you miss the festival, there are still many other opportunities to fill up on high culture in New York. MoMA offers free entry every Friday between 4pm-8pm and several other museums, like the Natural History Museum, operate on a donation system so you pay what you can on arrival.
Shakespeare in the Park
Shakespeare in the Park is one of NYC's most beloved summer traditions. Held in the open air Delacorte Theatre in Central Park, the festival offers free admission to see some of Shakespeare's most famous plays. Although tickets can be hard to come by, it is well worth the effort for a bit of celebrity spotting under the stars. During my J1 I saw The Tempest with Jesse Tyler Ferguson (who plays Mitchell Pritchett from Modern Family)!
Summer Movies Under the Stars
There's no better way to spend a dollar-free evening than watching a movie under the stars, surrounded by New York's twinkling skyscrapers. The movies are aired at various locations throughout the boroughs, but my favourite spot was Bryant Park as the crowd frequently got up to dance to the opening credits, depending on the movie. Make sure to arrive early to grab a comfy spot, along with cushions, blankets and snacks, as spaces fill up quickly. An eclectic mix of Hollywood classics, major blockbusters, and family favourites are aired on a weekly rotation meaning you can go week after week and never get bored.
Broadway on a Budget – and the Next Best Thing
No summer in NYC is complete without a trip to Broadway. The bad news? Tickets can be extraordinarily expensive. The good news? If you are flexible with what show you'd like to see, there are many easy ways to bag yourself discounted tickets to some of the most renowned Broadway musicals in town! I was lucky enough to get last minute, half-price tickets to The Book of Mormon by queuing up at the box office before work (I worked in a restaurant off Broadway so this wasn't a big deal).
If, however, you work too far from the Theatre District for this to be feasible you can also try the TodayTix app, Groupon or the ticket lottery. If you have your heart set on a specific show, make sure to check out Broadway Box which is full of discount codes for the major musicals!
If you do miss out on Broadway there is another way to see up-and-coming musical stars for the price of a grilled cheese sandwich. Step back in time with Ellen's Stardust Diner, a flamboyant, retro-themed restaurant where waiting staff stand on the bar and belt out famous musical numbers. Many of Stardust's staff have gone on to have successful musical careers on Broadway as well as American Idol, and although ridiculously touristy, I absolutely loved it!
Kayaking on the Hudson
A great and outdoorsy way to spend an afternoon in NYC is to head over to The Downtown Boathouse at Pier 26 (as well as other new locations) for a free kayaking session! So, grab a friend, done a lifejacket and take in those New York City views from the water!
Statue of Liberty Dollar Free
While visiting Lady Liberty in the flesh is certainly a worthwhile experience, for students looking to save some cash, hop on the Staten Island commuter ferry and enjoy spectacular views of downtown Manhattan and the Statue of Liberty for free! Many of the ferries have open decks that offer perfect photograph opportunities. The round trip, including waiting times, takes about two hours which is an easy price to pay for seeing the Statue of Liberty for free.
Cheap Eats
New York is a food lover's dream, with just about every type of international cuisine available at any time of day or night, but with the US tipping culture, dining out can set cash-strapped students back a fair few bob. But that doesn't mean you can't enjoy lots of tasty and cheap eats throughout the city.
Check out Smorgasborg in Brooklyn, an expansive pick-and-mix style outdoor food market which features a range of food stalls from different restaurants throughout the city. With each dish generally coming in at less than $10, it's a savvy way to sample a wide variety of different specialties without breaking the bank.
Similarly, New York's pizzerias are also a tasty way to fill your belly on less than $5 and are a central part of any quintessential New York experience! And yes, while you can indulge in many 24-hour dollar slice pizza shops in the city, its often worth throwing in an extra dollar or two for a quality upgrade – which still makes for a delicious and relatively inexpensive meal! I would really recommend trying Joe's Pizza for one of the best pizza slices I had all summer.
All Things Brooklyn
Brooklyn was my favourite borough to explore while living in New York. Not only does it offer cheaper accommodation and a quick commute to the city, there is also an endless list of quirky neighbourhoods to explore – from hipster Williamsburg to the Bushwick street art scene to the picturesque brownstones of Park Slope. Each area has its own distinctive history and culture as well as lots of cheap ways to spend your time!
After researching a few different neighbourhoods, myself and my friend were lucky enough to move in with two American guys in a spacious 3-bed apartment in Clinton Hill – with amazing views of the city from the rooftop! I know it may be tempting to try and squeeze as many of your friends as possible into an apartment but moving in with New Yorkers really does give you a fuller 'USA experience' on your J1, as well as the inside scoop on all the best bars and restaurants in town!
One of my favourite things to do on my days off work was to wander through the many different Brooklyn flea markets and thrift shops. Head to Bedford Avenue in Williamsburg to browse the smorgasbord of second-hand trinkets or wander over to Forte Green to experience the holy grail of all Brooklyn flea markets! You can find everything here from an antique pair of earrings to some second-hand furniture to fill up your new apartment and all for a fraction of the price of their Manhattan counterparts.
Brooklyn Street Parties
Keep your ears open during the summer for a Brooklyn Street party happening near you! These neighbourhood block parties are normally free to attend and feature food stalls and DJs on the street and offer an economical alternative to the expensive clubs in the Meat Packing District (or even $30 entrance fees in Williamsburg).
Celebrate Brooklyn
This free outdoor performing arts festival runs throughout the summer months in Brooklyn's Prospect Park and offers a great chance to see a range of up and coming international acts free of charge.
Walk the Brooklyn Bridge
Another highlight of my J1 summer was walking the Brooklyn Bridge at sunset. However, I made the rookie mistake of walking from Manhattan to Brooklyn…. with all the skyscrapers behind me, so make sure you start on the Brooklyn side and you'll get to see all the skyscrapers light up before you as the sun goes down.
Cool Down in the Free Public Pools
My final suggestion for making the most of your time in New York is to check out the range of community pools throughout the boroughs! Come equipped with a locker key, flip-flops and a strong determination to fight for a spot on the sunbeds and you're all set!
Narrowing down my top tips for exploring New York is a pretty tall order, considering the laundry list of stellar things to do, see and eat in the Big Apple! With a city as busy as New York, a weekend trip is simply not enough time, so take the plunge and book a J1 for the best summer of your life!