Coach Soccer USA – Ciaran's Summer of a Lifetime
Each summer USIT hires hundreds of Irish football fanatics, looking for a dream summer in the US teaching the beautiful game. Ciaran Ryan spent his summer touring through Colorado, Utah, Wyoming and New Mexico on our Coach Soccer Programme, before hitting New York. We're not jealous at all… Now you can hear all about how she got on! 
The Journey to Denver
To make it to America I had to attend an Assesment Day in Cork. Once I had been accepted from there I was walked through everything by both USIT and Challenger Sports. Next was the contract which came just after my birthday (a great present). I learned I was scheduled to go to the Denver region first. I went to the 2 training days; one in Dublin and then the fun one in Warwickshire University in Birmingham where you learn the coaching philosophy. You also get a chance to get suited and booted.
My Time in America
I got to work in Colorado, New Mexico, Utah and Wyoming, and all 4 states were incredible and beautiful. In this job you will get a lot further on your personality over qualifications and certs. Show you can coach, show you can have fun with the kids and act like a kid, then you will get on great. My daily tasks were simple. On a Sunday you will drive to the town you will be working in at 6pm and meet your new host family. On a Monday you will be a bit busier because you will meet the camp coordinator who will give you the soccer balls and T-shirts. You work between 8am-3pm depending on if you have first kicks (3 yrs old: 8am-8:45) and if you do golden goal which runs from 12pm to 3pm. This is a full day programme. What you need to teach them is all in your curriculum that Challenger gives you so it's very straight forward.
The Host Families
The host families were the highlight of the experience for me. They will look after you, feed you, become your friends and adoptive family. It's crazy how emotionally connected you can become in 1 week. I have seen my previous host families on my week off and at any chance I got. You will find it hard to leave on a Sunday. You will have plenty of different experiences,  some weeks you will be in a huge house with a pool!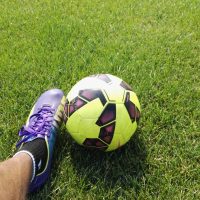 Lasting Memories
I can't even explain how strong the friendships I have made with other Irish coaches, British coaches and Brazilian coaches were. When you join this company you become family even with the Regional Directors who will look after you and make sure you are doing ok. People have asked me if I felt homesick. Simply put, I was too busy having fun and working to feel homesick. The car journeys can be long especially in the regions in the middle of America but each 8-hour drive felt like 20 minutes from all the singing and laughing that we did.
On the 4th of July week, you get a week off to do whatever you like. Some go to Vegas or San Diego, however, I stayed in Denver with a bunch of coaches who I had never met before and now I can't go a few days without talking to them. I visited old host families and saw some amazing sights. I've seen baseball games at the Rockies stadium Coors field, I have toured the mile high stadium also known as the home of the Broncos the NFL team I was lucky enough to spend my 4th of July night at the Colorado Rapids game where they also had a huge fireworks display. This is the stuff of dreams.

The Time of Your Life
To make the most of Coach Soccer USA, you really need to throw yourself in head first and experience new cultures, new friends and new sights. In my region, there is a lot of hiking as activities in my spare time and I loved every second of it.  This experience is for those not afraid to try something new and leave their comfort zone. You have plenty of time to spend summer at home now is your time to enjoy the world. Once you go for it, you'll have the best summer of your life!