10 Things I Learned On My Grad Visa
Joseph Murray has just returned home from an amazing year in Los Angeles on the US Grad Visa. We decided to sit down with Joseph and discover what he learned from his adventure and how it's benefitted his career since he's returned home.
1. Nothing Ventured, Nothing Gained
One of the most valuable things I learned on my Grad Visa was that things don't just magically happen. Having moved to L.A. completely by myself, I quickly realized that if I was going to make it, I would have to do it on my own. You have to become what's called a "self-starter", someone who's ambition motivates them to work on their own initiative. I adopted a very pro-active attitude to my job hunt and the result was the position of my dreams in a Beverly Hills marketing agency.
2. Modesty Gets You Nowhere
Irish people have a tendency to downplay their skills and sell themselves short. Doing this in America is a guaranteed road to failure. Americans have mastered the art of pitching themselves to employers and this makes the job market over there more competitive. Everyone is talking up their skills instead of undermining them and this is a mindset you need to adopt. Now, of course, you should always tell the truth in an interview setting but you should also present the truth in the best possible light. Honesty is the best policy but there's nothing wrong with adding a little spice.
3. Self-Investment
The Grad Visa is a not a gap year. It's a way of bridging the gap between college and career so that you return to the Irish job market with an edge. Sure, you could do the very bare minimum on your Grad Visa but wouldn't that be a complete waste of time and money? Instead, think about the person you want to be when you return home. This is your year to get the skills and qualifications you've always wanted on your C.V. Don't expect to be spoon-fed in your internship. If you want to upskill, it's up to you to be pro-active. You want to be the best version of yourself when you come home, so put the work in and, trust me, you will be. Invest in yourself and you'll see the reward.
4. Avoid Signing A Lease
When apartment hunting, I quickly realised that it was a lot more difficult than in Ireland. Landlords run a credit check on tenants and, being Irish, I didn't have an American credit score. Instead of going down this path, research other living styles such as subletting and co-living. Subletting allows you to rent for short periods of time, usually without signing anything. This is perfect if you plan on doing more than one internship and may need to move around.
I opted for a "Co-Living" set-up, which means you share a room but get to live in an amazing house and neighborhood. I was lucky enough to spend the year living in Beverly Hills, in a house worth several million dollars but my rent was cheaper than it currently is in Dublin! Insane right? If you don't mind sharing a room, co-living is your ticket to an amazing year. Plus if you're traveling alone, it's a great way to make friends.
5. America DOES Have Culture
Before my Grad Visa, I believed the saying that America doesn't have any culture. Having spent a year there, I can tell you, nothing could be further from the truth. The Grad Visa is what's called a "Cultural Exchange" visa so you're expected to embrace all things America. Remember, America is a melting pot and each city has hundreds of cultures. So yes, Taco Tuesday counts as a cultural experience! There are so many beautiful public parks in the U.S. so definitely take in the scenery. My favorite cultural experience on the Grad Visa, you ask? Hands down, going to Walmart on Black Friday. You really have to see it to believe it!
6. Travel Travel Travel
Possibly my only regret on my Grad Visa is that I didn't travel as much as I should have. I got to visit Las Vegas and New Orleans which were amazing but there are so many more U.S. cities on my bucket list. Some flights seemed a little bit expensive at the time but looking back, they're never going to be that cheap again! I splashed out and bought a ticket to Coachella and it was the best decision I've ever made. If you have the same wanderlust that I have, I'd recommend cramming as many destinations into your year as you can!
7. Reinvent Yourself
I used my spare time on the Grad Visa to explore my passions. After years of essays and assignments, I was ready for some creativity. I chose to focus on my singer/songwriting and I went about finding a music producer to finally bring my songs into reality. I ended up meeting a seriously talented producer called Taylor Carrol and together, we produced a full 10-track studio album!
Ask yourself if there's a hidden passion or a secret dream you have deep down and use the Grad Visa to explore it. You're moving to the land of opportunity and you can never dream too big. And if you need some inspiration on the plane ride over, you can stream my album on Spotify for free!
8. The American Dream Is Alive And Well
I've always believed in the American Dream, the idea that if you work hard in life, you will succeed. I wasn't sure what to expect when I began my job hunt in L.A. and I was quickly surprised by the vast amount of jobs!  Opportunity was knocking, I just had to answer.
When I eventually did find my dream role, I was starting at the bottom. However, American employers value work ethic highly and the harder you work, the faster you will move up the ladder. This was key to my success in the States. I didn't want an easy ride, I wanted to get experience everywhere I could. When you work in an office with the view of the Hollywood sign, it's hard not to be inspired to reach for the stars.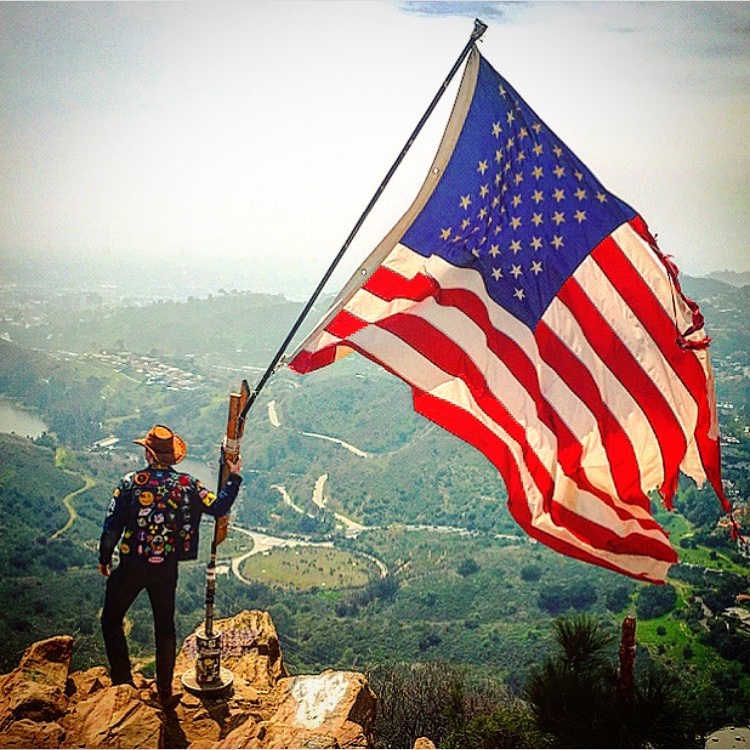 9. Live Your Best Life
This phrase originated in Los Angeles and quickly spread across the world. It may sound cheesy but once you accept it, it can be revolutionary. Simply put, it means to take control of your life and to write your own destiny. We only live once so why wing it? I applied this to my year in L.A. and chose to Live My Best Year. And guess what? I did! Once you make the decision, the rest will follow.
Let's be honest, we all secretly like showing off our best moments on Instagram. If you're going on the Grad Visa, picture what your IG will look like when you come home.  You want your friends to have a little bit of FOMO, right?. Then make the decision to have the best year of your life and you will!
10. There's No Place Like Home
When I graduated from college, I wanted to escape Dublin as soon as possible. I literally got my degree and jumped on the first flight outta here! Done with Irish weather and ready for some SoCal sun.
The funny thing is, after months of living in L.A. I began to miss the little things that are unique to Ireland. Although I adore American humor, you just can't find craic in anywhere other than Ireland.
Since coming home, I've secured a job I absolutely love, have my very own apartment and am continuing to perform my songs live! I've gotten the Dublin life I wanted and I definitely would not have achieved this if I didn't go on USIT's One Year Grad Visa.