J1 Stories: CIEE Civic Leadership Summit
We caught up with Conor Dunne who attended the CIEE Civic Leadership Summit last year. Once you hear his story, you'll be convinced to apply too! 
The CIEE Civic Leadership Summit
One of the several requirements you must satisfy in order to be issued a work and travel visa from the United States Department of State is to find yourself a sponsor. If you have chosen to organise your summer stateside with USIT, then fret not, for one has already been arranged for you: you will be sponsored by the Council on International Educational Exchange – or CIEE, for short. Among some other things, it is the responsibility of your sponsor to ensure that your time abroad passes as enjoyably and as fruitfully as possible and one of the many ways in which your particular sponsor strives to achieve this is through the CIEE Civic Leadership Summit.
It is unlikely that any of you will know what that is. Allow me to explain: the Civic Leadership Summit is a three-day event which usually takes place in the final week of July in the American University in Washington D.C. and which brings together forty or so fortunate work and travel students from various countries, cultures and socio-political backgrounds to discuss ideas, to share worldviews and to participate in a series of lectures, workshops and field challenges that converge upon the themes of intercultural awareness, diplomacy, politics, civics and social entrepreneurship, the intention of it all being to inspire and ideally produce the next generation of global social changemakers.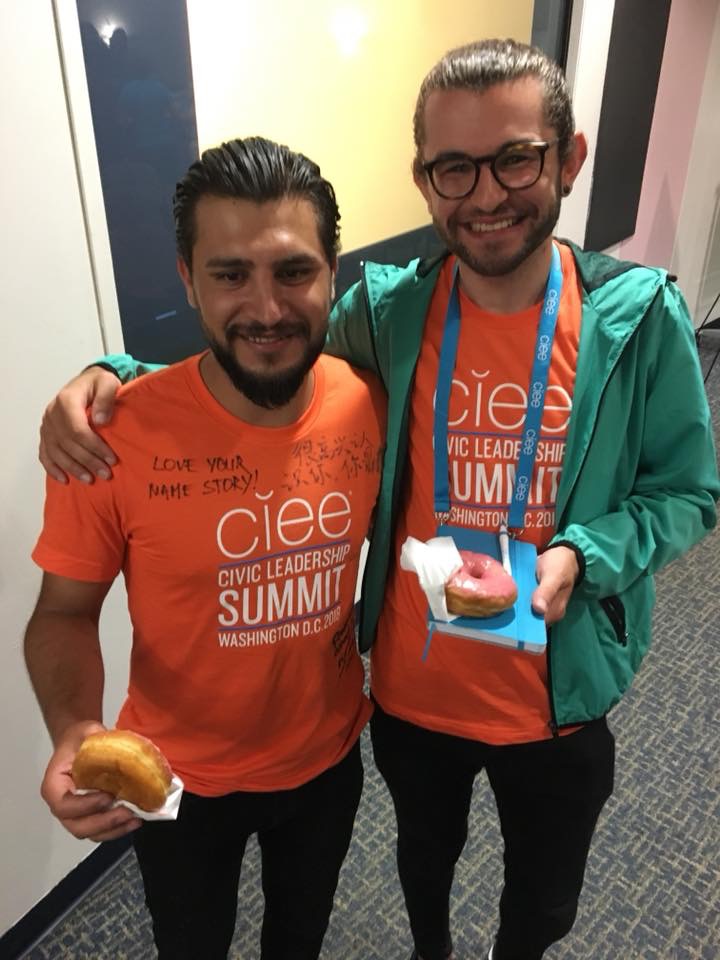 In any case, there is more, for I have not yet mentioned what is perhaps the best part: the event is entirely all expenses paid. In the course of those three days, you will not pay for one meal; all of your transport fees will be covered, including the cost of any aeroplane, bus or train journeys necessary for your getting to and from the venue; and you will be accommodated in the dormitories of the university free of charge. It is quite possible to go the whole half-week without spending a single cent.
If this all sounds rather appealing to you, then you are in luck, because the application process is fairly straightforward, too. I expect you will all soon receive an email notifying you of the summit and inviting you to apply for a spot at it. If I remember correctly, it was in about March or April of last year that I first caught wind of it. In the event that you do not receive an email, there is no cause for worry: you can always go directly to the website and apply there – link: https://www.ciee.org/in-the-usa/work/work-travel-usa/cultural-exchange/civic-leadership-summit.
The Experience
Enough with the dreary formalities, though. I figure it is about time I tell you all about what went on at the event itself.
Upon landing, we were treated to an amazing Opening Ceremony Dinner, followed by some intercultural activities and then a formal lecture delivered by Mentor Dida, co-director of the Youth Venture Project at Ashoka, an organisation which awards financial aid to innovative social entrepreneurs across the globe. Next, we received a quite special guest into our midst when Mr. Kevin Saba, the Deputy Assistant Secretary for Private Sector Exchange in the U.S. Department of State.
We also undertook at changemaker challenge workshop, which involved teaming up in pairs, deciding upon a social issue that both members felt deserved redress and, finally, creating a hypothetical social enterprise which would be capable of tackling the problem. As per the vote of the group, the best effort from each was selected to represent it, with the four successful teams then being required to pitch their ideas to the CIEE Board of Directors, who were to dine with us the following day.
Once the following morning and another engaging lecture were through, it was time to set off on a guided tour of Washington D.C. We saw it all: the White House, the Lincoln and Jefferson Memorials, the Capitol Building, the very spot from which Martin Luther King pronounced his most famous speech, the Reflecting Pools where Forrest reunited with Jenny. When all that could be seen and snapped had indeed been seen and snapped, it was back to the University for the Closing Ceremony Dinner and an emotional farewell.
Why You Should Apply
The question now becomes that of why you should wish to attend the CIEE Civic Leadership Summit. Well, if I have not yet managed to persuade you to apply, here's a few reasons why you REALLY should!
It will enhance your enjoyment of the work and travel programme tenfold, and is also an effective method of avoiding Irishtown Syndrome, a well-documented phenomenon whereby Irish students huddle together for cultural warmth.
It's an amazing networking opportunity and you will leave the summit with an international network.
You will be left much heightened, deepened and enriched as an individual. In the course of those three days, you will have the opportunity to expose yourself to any number of worldviews, modes of thoughts, manners of being, methods of problem-solving, moral and ethical philosophies.
So if you fancy building your leadership skills over the course of an action-packed 3 days, apply for the CIEE Civic Leadership Summit today. Did I mention there's free pizza..?